If you had the option to pick and choose what parts exactly your laptop ships with, that would be great. Unfortunately, we can't ask for a better built-in webcam, a better, more clicky mechanical keyboard built right into the chassis of our productivity-focused laptop, or ten extra ports.  
Nevertheless, things are still in our hands to a very good extent. You can up the quality of your video-conference sessions or classes by getting a high-quality webcam. You can add some character to your desk by adding a funky keyboard. If you suffer from wrist fatigue or pain, you can opt for an ergonomic mouse instead of using your laptop's trackpad. Luckily, all of these, and more, are possible as we go through the offerings by Logitech, j5Create, Targus, and Rapoo in this article, which include some of the best wireless keyboard, laptop mice, and universal docking station options.  
You are most likely already familiar with Logitech, so let us briefly introduce the remaining brands. j5Create is a company that specializes in making high-quality webcams, USB hubs, docking stations, adapters, USB cables, and more. Targus also makes high-performance, pro-grade docking stations, but they also focus very heavily on their bags, backpacks, and shoulder bags designed in large part for the tech enthusiasts who take a lot of their tech with them on the go. Last but not least, Rapoo is an emerging brand in the field of computer peripherals focused on bringing the best possible performance and looks at an affordable price.
j5Create JVU430 4K Ultra HD Webcam
While 720p webcams on laptops are mostly a thing of the past and 1080p is the new norm, no laptop ships with a 4K resolution webcam. The JVU430 not only brings you the highest resolution that currently exists in webcams, but it also brings with it a much larger image sensor and a wider field of view than the one found on your laptop. Arguably, the size of the sensor matters even more than the resolution.  
Another factor nearly as important as the size of the sensor is the aperture width. At f/2.0, the aperture width of the JVU430 is comparable to modern smartphones' main sensors in an area where webcams have not made major strides. The f/2.0 aperture ensures you will have more light coming in to leave more detail in the darker areas of the scene, which is especially helpful in less-than-ideal lighting conditions.  
With the JVU430, you will also get a dual microphone setup, a privacy protection cover for peace of mind, and a chassis that can rotate 360° and can be mounted on a tripod. The webcam is compatible with Windows, macOS, and ChromeOS.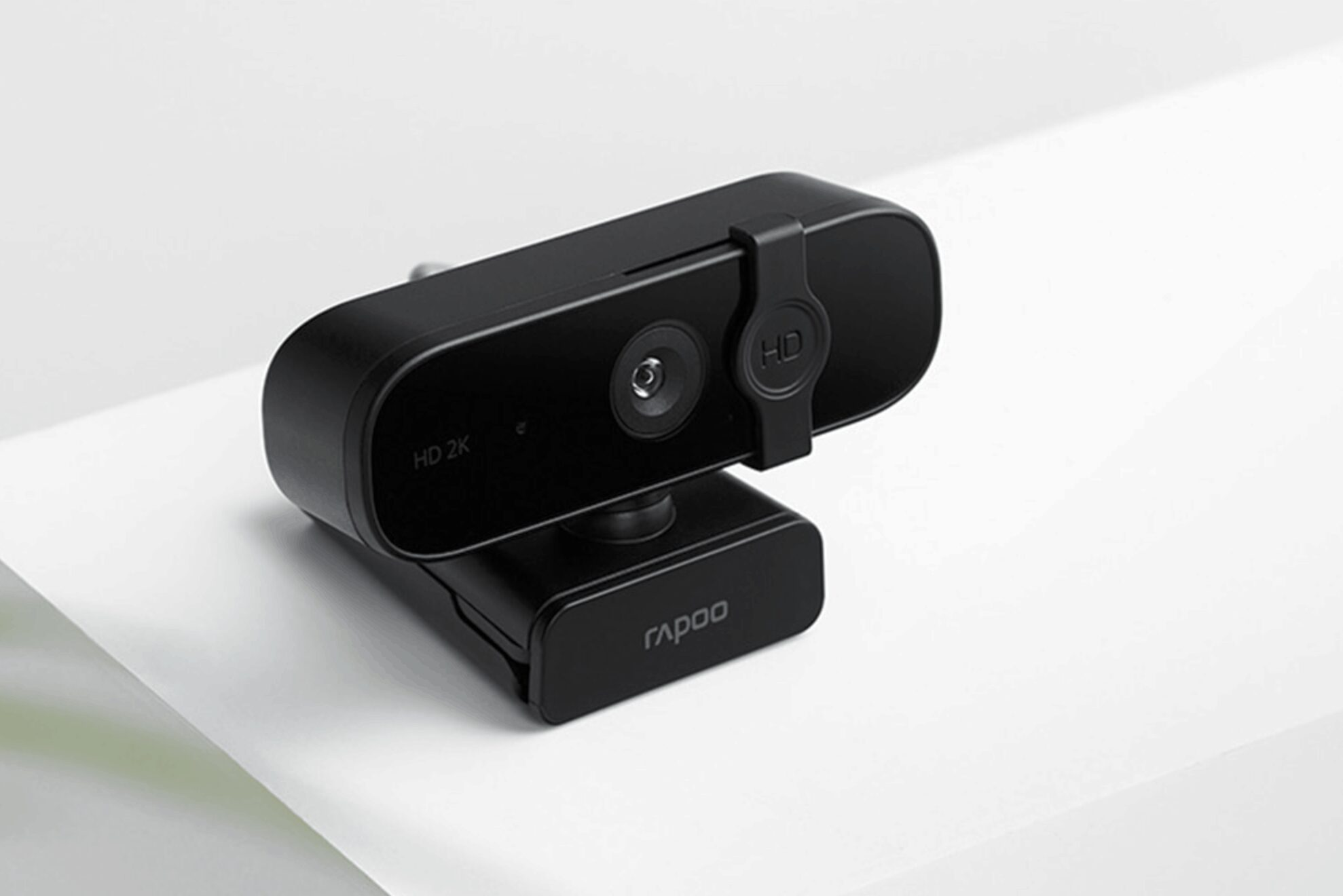 Rapoo C280 2K QHD Webcam  
The successor to the Rapoo C260, the C280 kicks the resolution up a notch to 1440p. The image quality improvements are accompanied by some audio improvements as well––the dual omnidirectional microphones help a lot with noise-reduction. The auto-focus-capable lens on the C280 can be hidden easily with the built-in cover for extra peace of mind. This 360° rotatable webcam can be mounted on a tripod to offer you more control over your image.  
But at the end of the day, it's all about the combination of the C280's image quality and price. At a very affordable price, you are upgrading the webcam on your laptop significantly whether you use the webcam in 2K or 1080p mode. Note that at 1080p, you can utilize the webcam at 60fps and get a slightly better-exposed image.  
Keyboards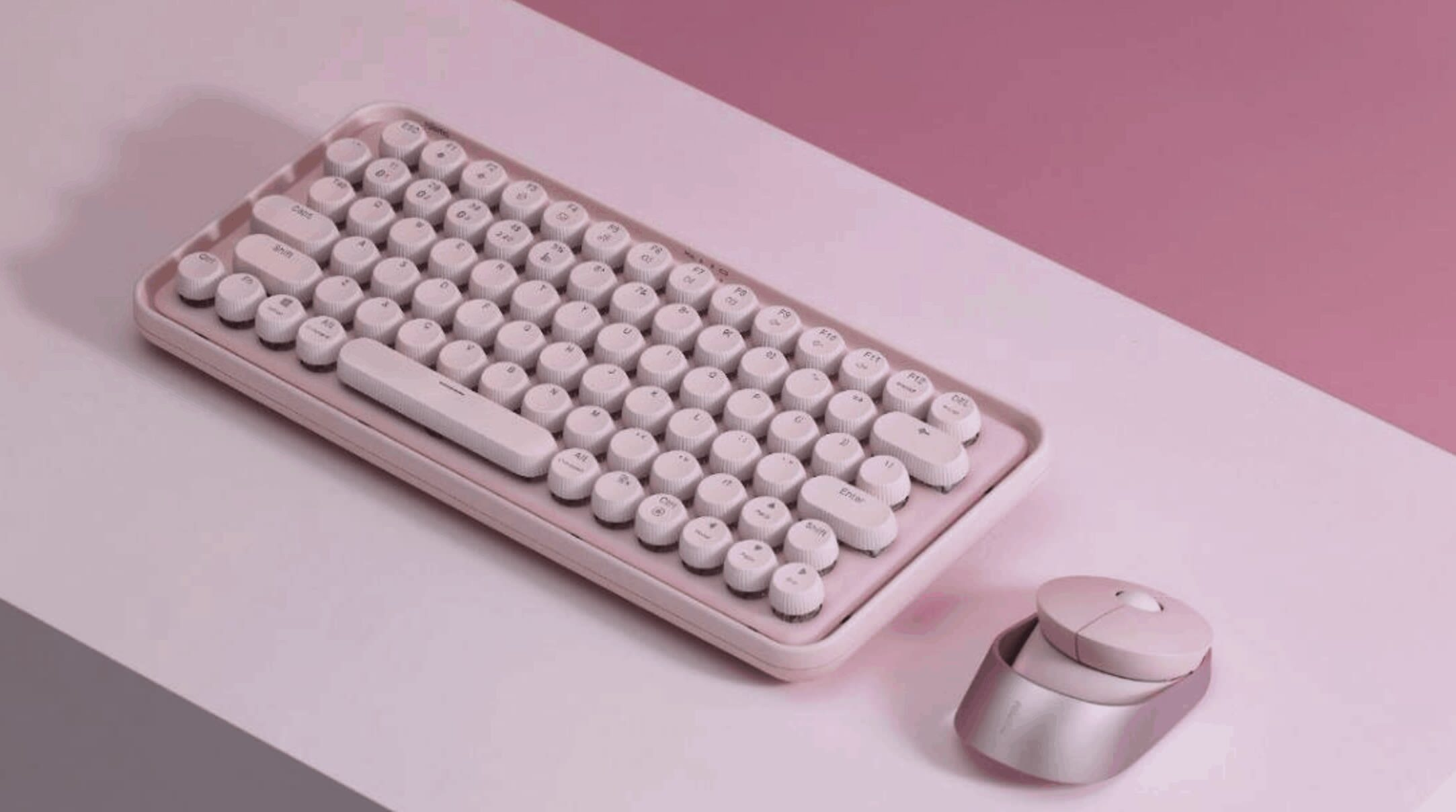 Rapoo Ralemo Pre 5 Multi-Mode Wireless mechanical keyboard
This incredibly stylish keyboard took everyone by surprise at its release! Although the design is the main selling point for the Ralemo Pre 5, this mechanical keyboard features Rapoo's Multi-Mode wireless technology. This technology allows for connectivity and instant switching between four devices––three through Bluetooth 5.0 and 3.0 and one with the 2.4Ghz USB dongle. The variety of mechanical switches, including Blue, Brown, and Red switches, are covered with what is probably the most recognizable aspect of this keyboard: the round, almost muffin-liner keycaps.  
The Ralemo Pre 5 comes in many funky colors, some with accents of different colors. Keyboard and mechanical switch color availability, however, depends on your region. The Ralemo Pre 5 will definitely get a comment from anyone who walks by it, especially if it's accompanied by a matching-color Ralemo Air 1 mouse.  
You can find a much deeper look at the Ralemo Pre 5 and Air 1 keyboard and mouse in our latest review.
Logitech MX Keys Mini wireless keyboard 
The MX Keys Mini is Logitech's default portable keyboard for any desk and one of the best wireless keyboard options for tablet and laptop users. It has fantastic build quality with a metal chassis and a hard plastic accent. The keycaps are extra comfortable because of the circular recess on top of the keycaps, which make for a very enjoyable typing experience despite the mechanism being a normal butterfly switch. 
 The smart backlight is a feature unique to this keyboard (and the MX Keys). As a result of the built-in proximity sensor and an ambient light sensor, the backlight turns on when your hand hovers close to the keyboard and adjusts the brightness automatically depending on the lighting conditions of the environment.  
The MX Keys Mini offers infinite customizability over the function of each key on a per-app basis, meaning you can assign, for example, the F-row buttons as shortcuts to do app-specific tasks and have the functionality change depending on what is the current active window. Despite the attention to customizing the keys, the keyboard is wonderfully easy and compact for other users who wish to keep things simple. The keyboard also features some handy shortcuts, such as an emoji key, a mute mic toggle for use in conference calls, and even a voice dictation key through the Logitech Options software.  
Once again, if you are looking for a compact, premium quality keyboard and you're looking to Logitech, the MX Keys mini (and its bigger brother, the MX Keys) must be on your shortlist. They are what Logitech is putting front and center as its flagship productivity models with an emphasis on creators as its main target demographic. 
We have a more in-depth look at the Logitech MX Keys mini here. 
Mice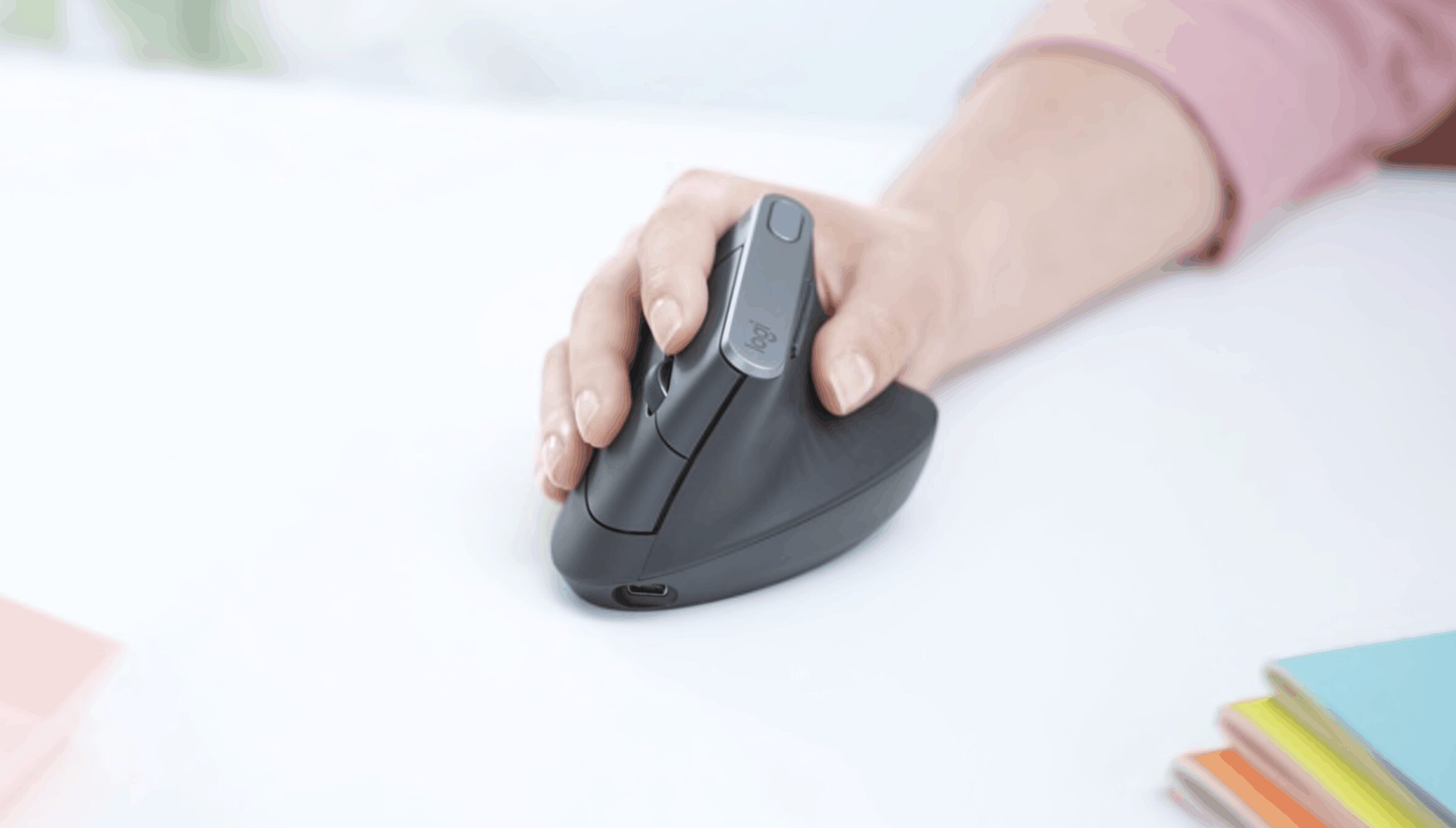 Logitech MX Vertical ergonomic mouse
This is a mouse designed for the adventurous and fatigued. Whether you have Carpal Tunnel Syndrome or occasional wrist pain after long hours behind the computer, are trying to prevent wrist pain due to incorrect hand posture, or just want some extra comfort as you are looking for the best mouse for your laptop, the MX Vertical is probably the mouse you've been looking for.  
The 57° angle on the MX Vertical is the scientifically tested sweet spot for maximum comfort of the wrist while your thumb rests in a natural position on the thumb rest. The scientifically-tested claim isn't just marketing bogus. The MX Vertical has been designed in Logitech's ErgoLab and tested in accordance with criteria set out by leading ergonomists.  
Outside of the benefits in comfort, the MX Vertical is a modern Logi-branded mouse, meaning it takes advantage of the incredibly sophisticated Logi Options software that enables nuanced control over the mouse's tracking, scrolling, and per-app functionality of each of the six buttons. The MX Vertical is ideal for medium-sized to large hands. If you have smaller hands, you need to check out Logitech Lift, which we covered extensively in this article.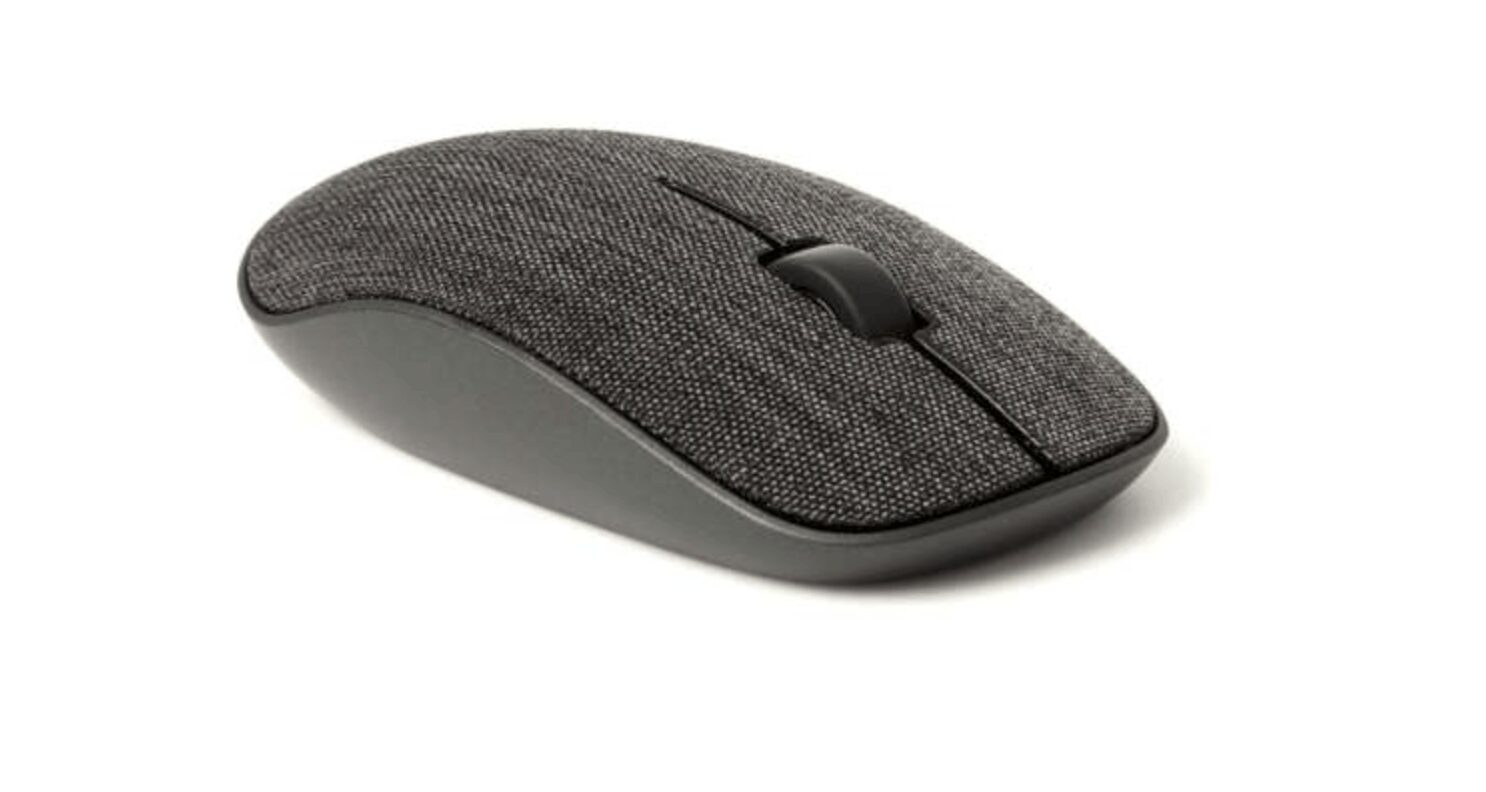 Rapoo M200 Silent wireless USB/Bluetooth mouse
A low-profile wireless mouse by one of the top manufacturers of budget computer peripherals, the super light and portable M200 Silent by Rapoo has quite a few selling points.  
Let's address the reasoning behind the name first: the M200 Silent is indeed very silent. It is one of the quietest mice you will find on the market. The quietness comes especially handy if you share a room with someone (at a college dorm room, perhaps) and you want to be working until late at night while your roommate is asleep. The M200 (if accompanied by the right keyboard) will not wake anyone up at night. The silent nature of the mouse does not at all detract from the clicky-ness of the left and right clicks, however.  
You also have the option to seamlessly switch between two connected devices; one through Bluetooth and one through the USB dongle that neatly houses inside the mouse, so you don't lose it during transport. The M200 Silent is a sleek wireless mouse that feels great to click without making any noise. If you are feeling especially funky, you should check out the M200 Silent Plus, which uses fabric on top of the mouse instead of the regular plastic. No matter which version you go with, it is one of the best mice for laptop there is on the market for the price with a clear selling point. 
Docking stations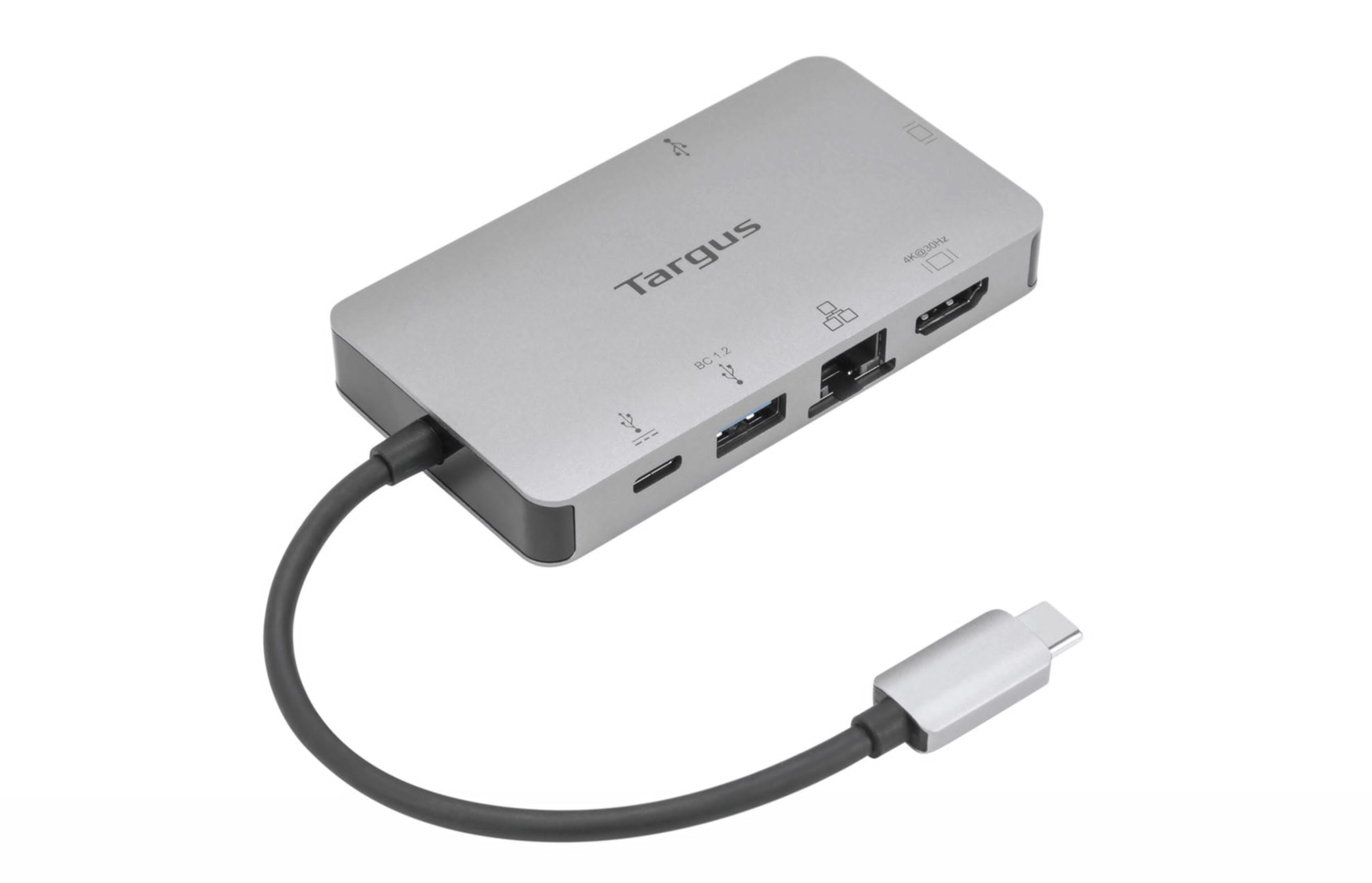 Targus Dock419 
There is no getting around it at this point; if you have a modern laptop, you need a USB hub or docking station. Modern laptops, if they are generous, will give you two USB-A or USB-C ports for maybe a mouse and keyboard or a flash drive or two. But the second you decide to use an extra peripheral with your computer, you're going to be out of luck. Having the right USB hub gives you that peace of mind that no matter the use-case scenario, you will have enough ports.  
Whether you want to add an extra display, a couple of extra hard drives or a RAM reader, or an RJ45 (Ethernet) cable while charging your device at up to 100W of power, you need not look further than the Dock419 by Targus. Known as one of the best universal docking stations, it even allows you to connect your laptop to legacy monitors/projectors because it also comes with a VGA output on top of the HDMI port. The HDMI port can support up to 4K resolution at 30Hz, 2K at 75Hz, and 1080p at 144Hz (although you can only use one of the display ports at the same time).  
Each USB port offered by Dock419 can transfer data at a rate of up to 5Gbps. To top it off, Dock419 is portable enough that you can just always have it in your bag, and rest assured that you don't have to face any connectivity issues. It is one of the best docking station for laptops that does all you expect from a compact dock.
j5Create JCD389 Ultradrive multi-display USB-C modular dock
If you have a MacBook that has come out in the last six years and are willing to spend a few extra dirhams for quality, the JCD389 Ultradrive kit by j5Create must be on your shortlist. It is difficult for a USB hub to look/be unique, but the JCD389 is just that. It features a modular design: you get five detachable magnetic adapters that can be connected to the main body or used independently.  
The main body features an HDMI 1.4 port capable of 4K resolution at 30Hz, a USB-C port, two USB 3.1 Type-A ports all capable of up to 5Gbps transfer rate, and a PD3.0 certified USB-C port that allows for charging the MacBook with up to 100W of power. The JCD389 modules combine to offer a Gigabit Ethernet adapter, a micro-SD and SD card adapter, a mini-DisplayPort 1.2 adapter and an HDMI 2.0 adapter both capable of 4K @ 60hz, and finally, a VGA adapter capable of supporting 1080p at 60Hz.  
The main body and all the modules come in a hard carrying case that allows you to bring all of them with you on the go. But most likely, you won't always need all of them. You have the option to bring with you only the main body, or the main body with a few of modules you will need, or just a single module without even the main body if that's the only thing you'll need on the go.  
Note that you can connect an additional module to the USB-C port on the main body if you want to (a total of 2 modules can be in use at a time). This daisy-chaining trick allows for up to three additional displays for your non-M1 MacBook. M1 MacBooks only support one extra display, but that's on Apple.  
If you are a MacBook owner and you were looking for the best docking station for laptop, you can be sure that the JCD389 is arguably the best one out there for you. For non-MacBook users, consider reading more about a few of the latest j5Create adapters and hubs here. 
Bags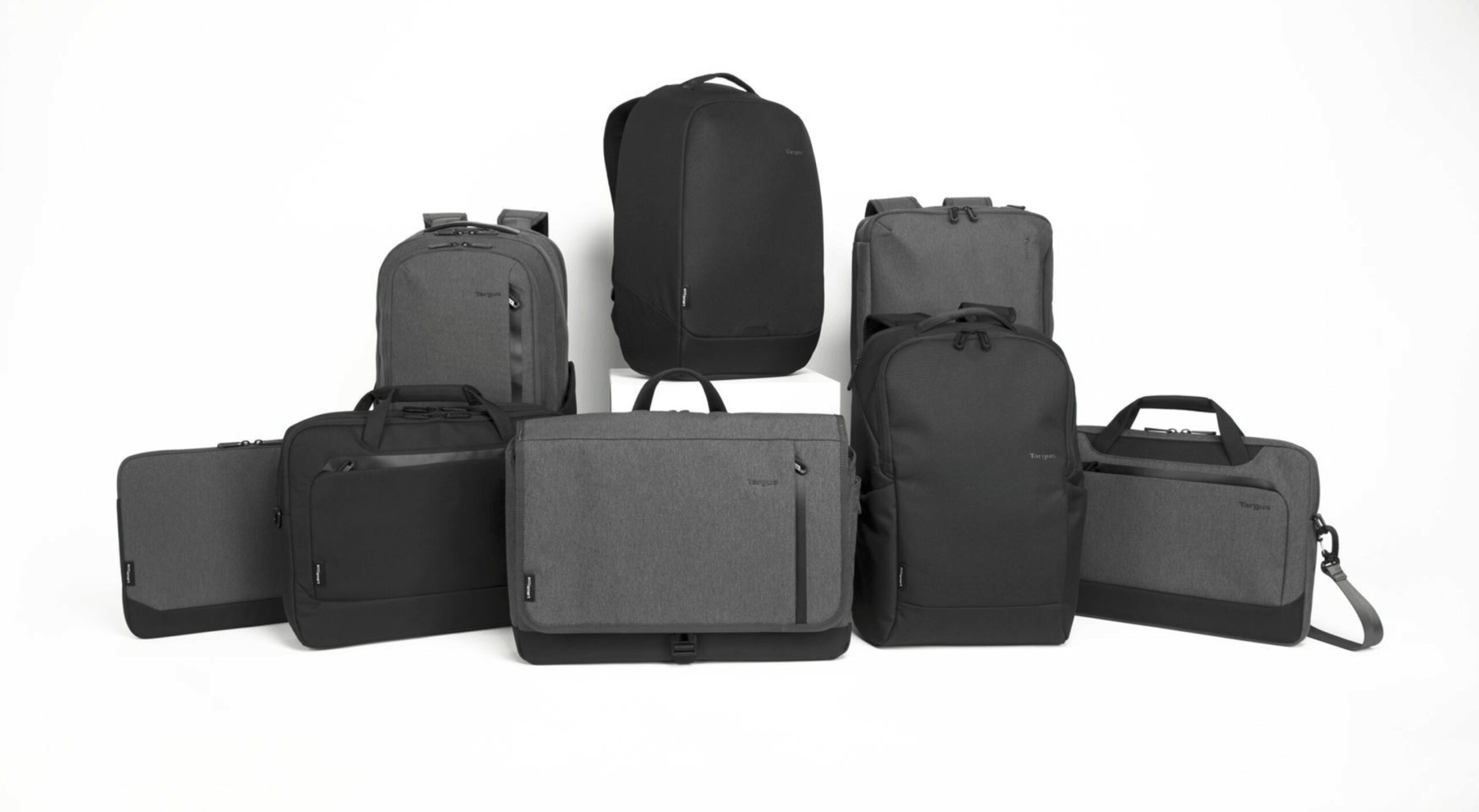 Targus Cypress EcoSmart collection
The various bags included in the Cypress collection, including the Cypress Briefcase, Cypress Hero Backpack, and Cypress Convertible Backpack, are among the best backpacks for students who are eco-conscious. All of these bags are suitable for laptops of up to 15.6" and are made from durable material. The Cypress line has been made to be environmentally conscious by using recycled plastic bottles in the build without sacrificing comfort, features, or durability––hence the EcoSmart moniker.  
The Cypress Briefcase features a quick-stash pocket and allows you to: (1) grab the handle, (2) use the shoulder strap, or (3) use the trolley strap to secure your rolling luggage to carry it around. The Cypress Convertible Backpack features the same quick-stash pocket and three modes of transport, with the difference being that the shoulder straps are backpack-style instead of putting on one shoulder like with the Cypress Briefcase. The shoulder straps can be tucked away in a zipper when not in use. The Cypress Hero Backpack features an adjustable ergonomic shoulder strap and a padded back panel for a comfortable fit. All the models mentioned feature a padded laptop compartment, naturally. 
For students with multiple use-case scenarios, the flexible Cypress EcoSmart collection gives them the optimal solution for each of them. You can use it as a regular backpack with average load or one-strap it for extra style points. But you can rely on this bag for more than everyday tasks. The trolley strap means it is ready for a trip as well. The handle on top is just the cherry on top!  
We took a much deeper dive into Targus' different collections and models within those collections in another article, which you can find here.
Targus CityLine
The focus of this collection of laptop bags by Targus is combining style, flexibility, and protection. Below, we highlight a few of this collection's offerings. 
The CityLite Pro Premium Backpack is designed for the modern-day tech enthusiast with a removable, customizable accessory holder that organizes all of your cables, external HDDs, power banks, and dongles. It also features Targus' patented DOME shock-distribution system to provide extra protection to your laptop and accessories. As a student that might take a laptop, charger and/or a tablet with them, the CityLine collection works great as it provides the space and the necessary protection for all of them. 
The CityLite Security Backpack, as the name suggests, emphasizes security and the protection of your belongings. It has RFID-blocking pockets to protect your credit cards etc., from being scanned by thieves. Both zippered pockets are concealed to be much more difficult to open discreetly, with the zipper for the main compartment completely hidden from view behind the shoulders.  
The final entry into the CityLite line is the CityLite Laptop Slipcase that almost has the profile of a laptop sleeve because of how thin and light it is. But the main compartment can actually expand quite a bit, and with the extra pocket out the front, this small-looking shoulder-carry can fit a surprising amount of components inside while looking extra stylish. 
Interested in learning more about Newcom's offerings?
As an official distributor for Logitech, Targus, j5Create, and Rapoo in the Middle East, Newcom offers a wide range of products from various categories offered by these brands, including the MX Vertical, Targus Cypress bags, and j5Create modular hub. 
If you are interested in any of the products discussed in this article, please make sure to check out our products page. For further information or any inquiries, make sure to directly call us or reach out through our contact us page.