As a proud desktop PC user, I have never liked laptops. Bold claim, I know. But I've always thought that for the versatility that laptops give you, they take a whole lot away from you. I have two monitors, a soundcard, a wired set of mouse and keyboard, a LAN cable, a USB microphone, an Xbox controller dongle, and a flash drive always connected to my desktop PC. Laptops, especially modern ones, do not provide the necessary number and type of ports for seamless connection to all such devices.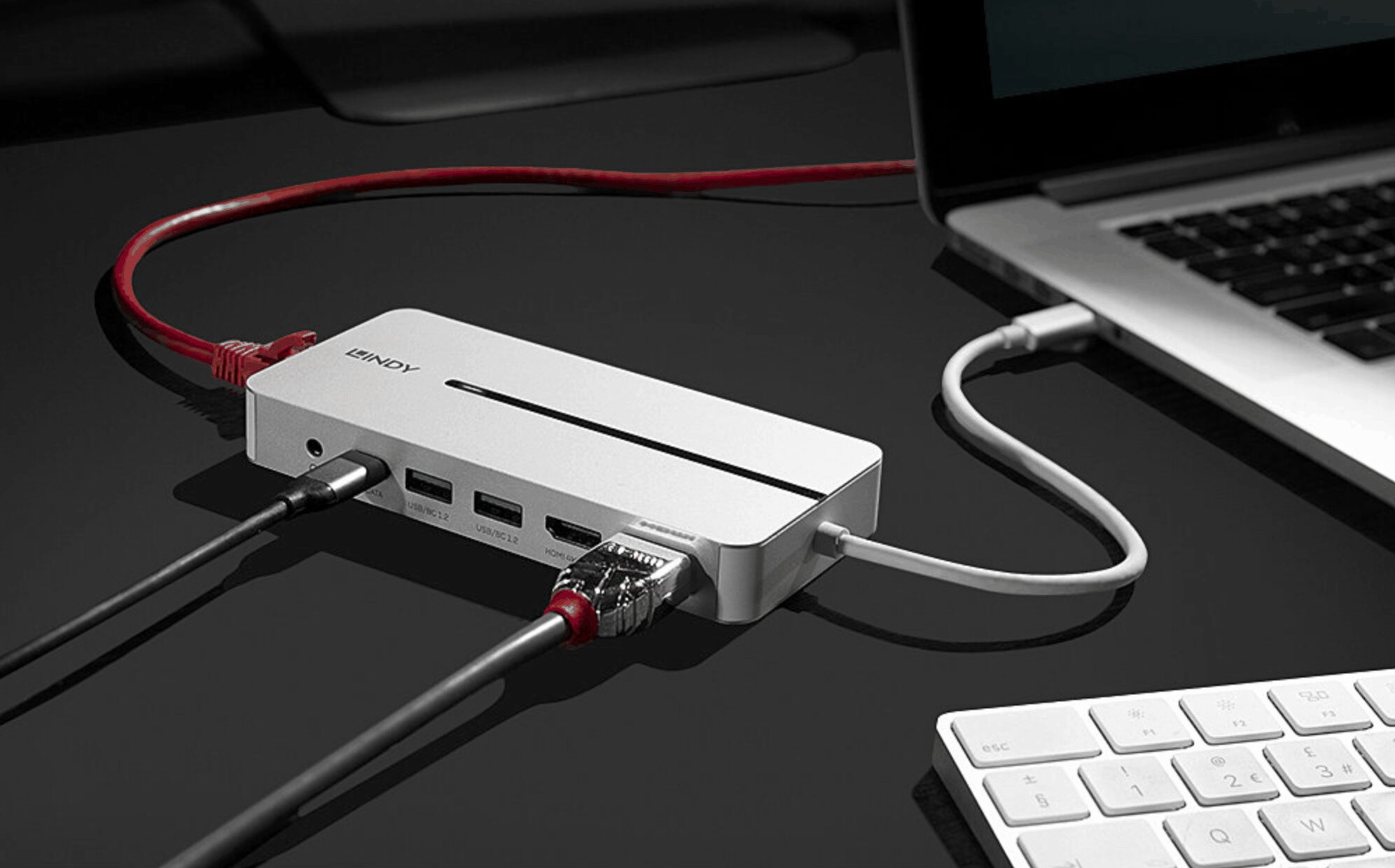 Why 
universal docking stations
 matter
Modern laptops would be considered extremely generous if they come with a couple of USB-A ports and one HDMI out. And that's for the bulky gaming laptops, ultraportable laptops that are designed to be mobile rarely have even that! But there is a way you can get all of that with the single (hopefully good!) USB-C port you will find on most modern laptops: get yourself a universal docking station. 
With a universal docking station, you will enable yourself to turn your port-less laptop into a workstation and have access to the freedom that a desktop PC will give you in your home office (or your actual office). Through a single cable, you will be able to charge your laptop, connect a microphone, a pair of speakers, a flash drive, a microSD, a monitor or two, a LAN cable or pretty much anything else you can think of.  
Yes, you will still most likely see all those cables on your desk, but it's a small price to pay to turn a portable laptop into a workstation in your room. But make sure you know what exactly you are going to be connecting to your laptop to find exactly what number/kind of ports you will need to have when you are making a purchasing decision.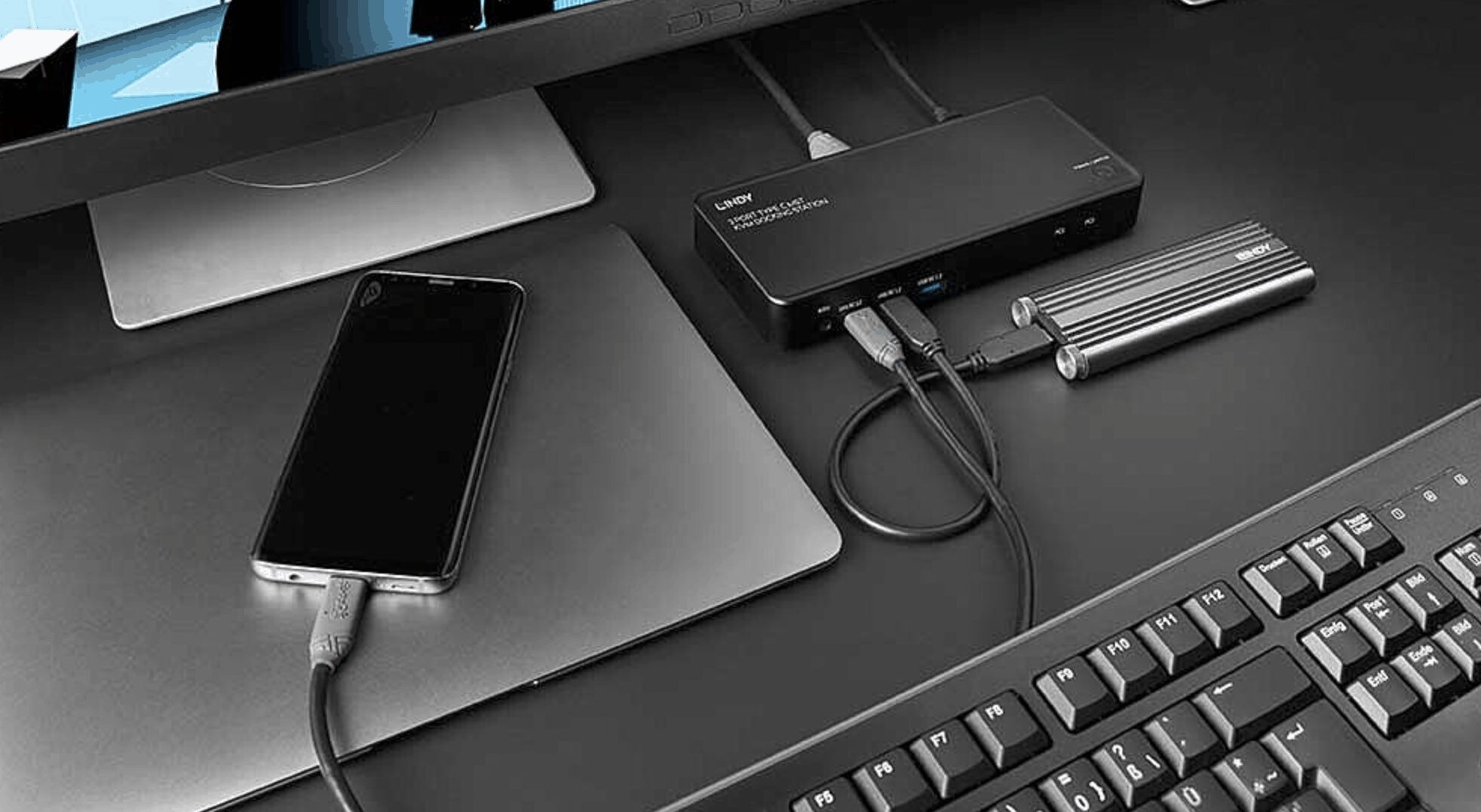 Universal docking station for laptop
 recommendations from Lindy Electronics
Lindy Electronics is a century old German company, which began to dive into the computer accessories market in the 1980's by designing their own range of cables and KVM switches until they expanded their product range to now include high-quality universal docking stations.  
Below you will be introduced to two top-of-the-line Lindy docking stations that provide maximum port expandability for your ultraportable laptop, plus one unique model if you are not planning to add a display to your laptop. If you pick the right option based on your needs, you can rest assured that you have picked one of the best universal docking stations you can find on the market.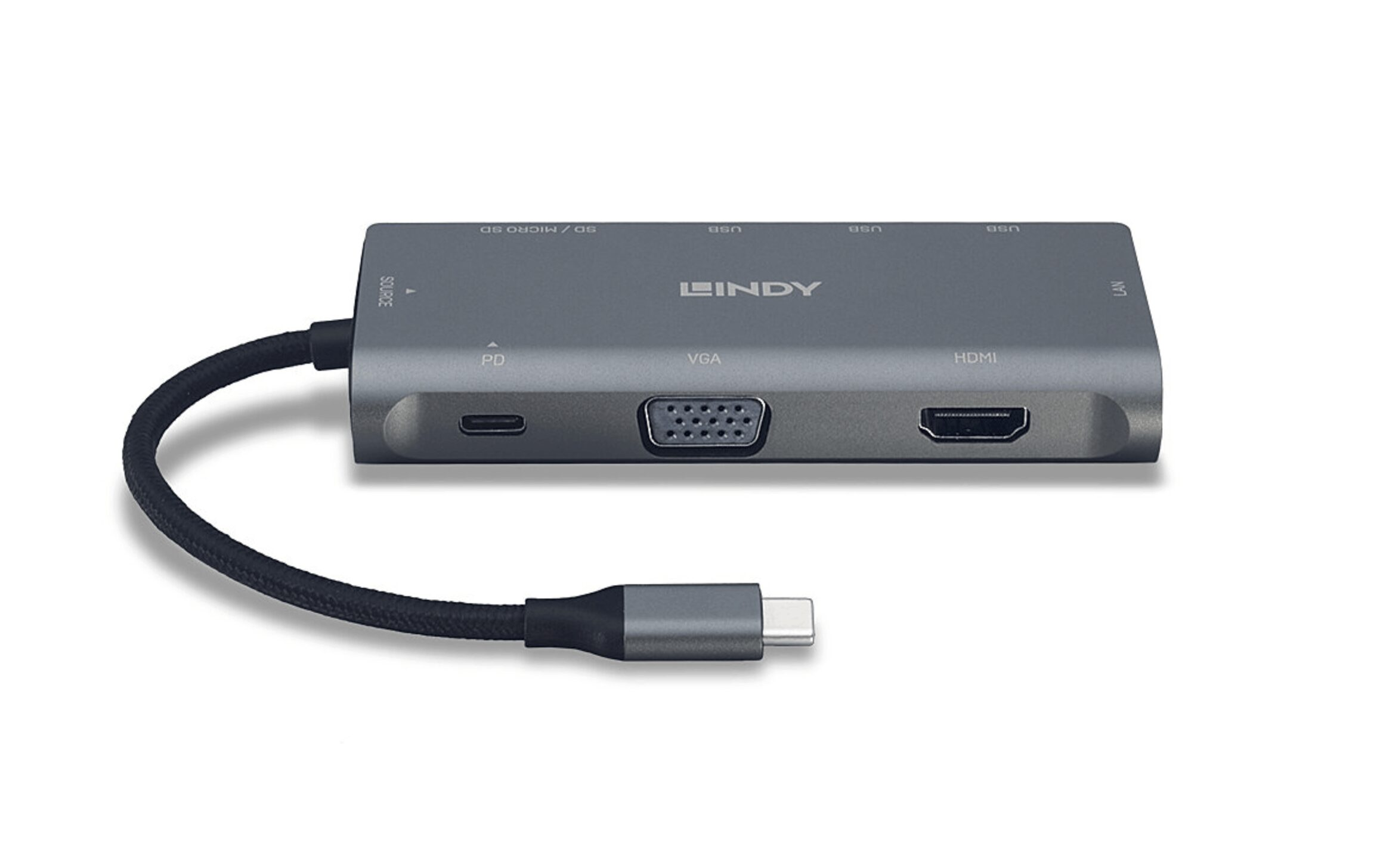 Lindy DST-Mini Plus
The first item on the list is an extremely powerful laptop universal docking station that can pass through 100W of power to your computer. So, if you have no extra USB-C ports to spare, you will still be able to charge your laptop at full speed. With the DST-Mini Plus, you get three USB-A ports 3.2 ports offering a transfer speed of up to 5 Gbps. Speaking of Gigabits, there is also a Gigabit ethernet port on the docking station for extra reliable internet connectivity.  
Modern standards + legacy compatibility
Looking at the image output situation, things get more interesting. On the one hand, you have a standard HDMI output that is capable of outputting 4K image at 30hz using the DisplayPort Alternate Mode. But you also get an additional legacy VGA port if the display/projector you want to view your content on doesn't support newer standards. You may even use both ports at the same time, but the content is going to be limited to 1080p, and it's going to be mirrored on both displays.  
The device is also accompanied by microSD and full-sized SD card slots. 
A durable design
All the ports above are packed into a high-quality aluminum shell that, combined with the braided USB-C cable, ensures its durability. If maximum video compatibility is a priority for you, the DST-Mini Plus is one of the best universal docking stations you can find. Otherwise, go for the next item on the list.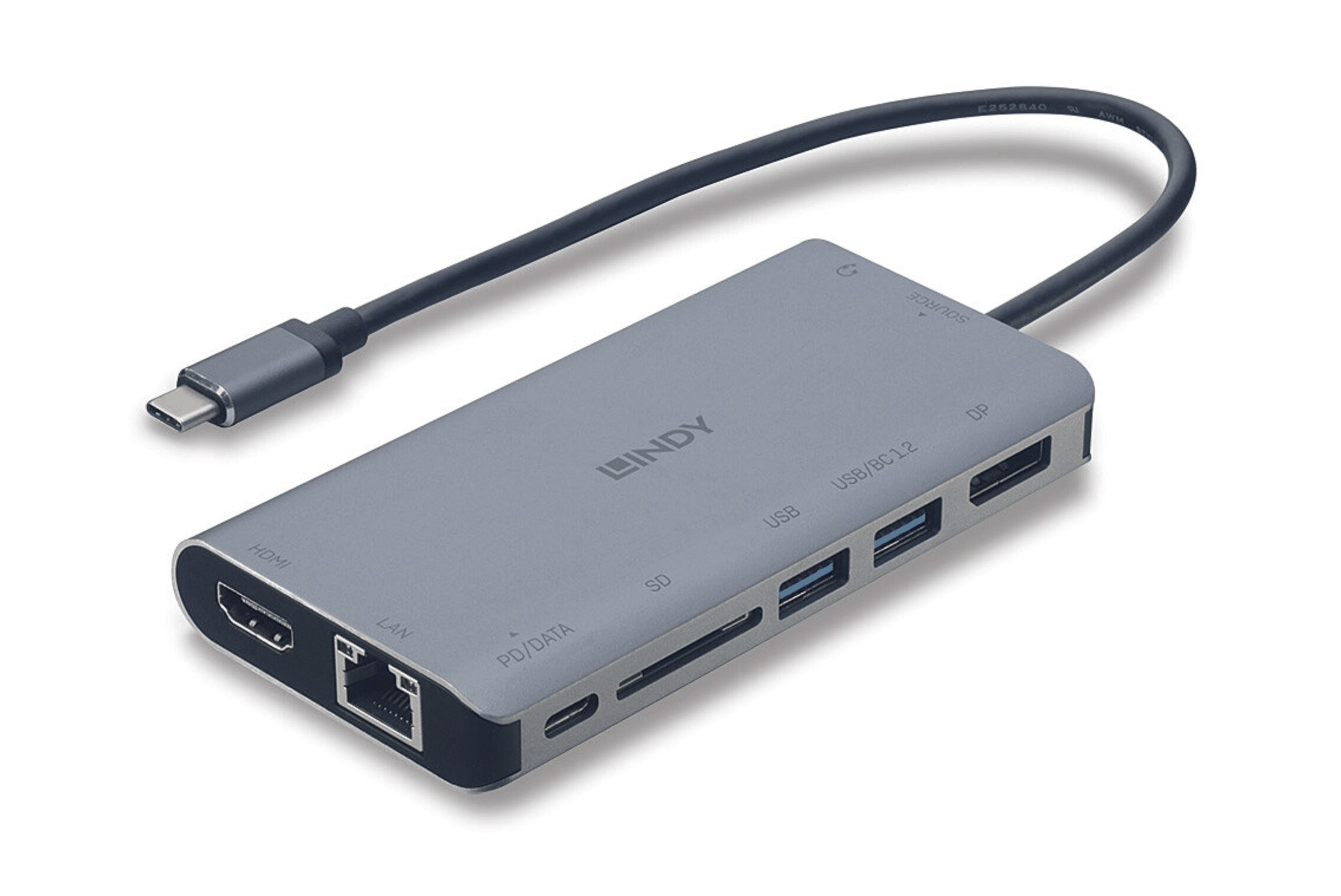 Lindy DST-Mini XT
Our next laptop universal docking station on the list does away with the legacy VGA port on the DST-Mini Plus and instead goes for the much more powerful DisplayPort. Both ports are capable of 4K image at up to 30hz of refresh rate, but when used simultaneously, they can run at 1080p @60hz; and this time around, not mirrored.  
Another meaningful difference with the DST-Mini Plus is that now, instead of the three USB-A ports, you are looking at two ports, one of which is capable of BC 1.2 charging. This port allows you to charge mobile devices through it with 7.5W of charging, on top of being able to transfer data with a rate of up to 5Gbps. Although 7.5W might not seem like much, you must consider that without this standard, even that amount wouldn't be possible with a universal docking station, or even the port on your laptop.  
A trade-off
The removal of the third USB-A port instead brought with a combo audio port. Most laptops have one combo audio, which means if you want to plug in a microphone input and a pair of wired headphones, you'd be out of luck. This extra audio port gives you the ability to use both at the same time.  
Another scenario where having an audio combo port is handy is when your laptop comes with separate audio in/out ports. If you get a pair of wired headset or earbuds that you want to use both as an audio input source and for listening, you would have to have a 2-to-1 adaptor to connect the earbuds/headset to the combo out. With the DST-Mini XT, you no longer have to worry about this.  
Another small difference between this docking station and the DST-Mini Plus is that the MicroSD slot is dropped, so you only have the SD card slot. That means you must have your adapter handy if you use a microSD. The RJ45 port (for Gigabit Ethernet) is still present. 
Packed to the brim, in aluminum
This Lindy docking station is the company's most feature-packed and one of the best docking stations for laptop users, housed in the same durable aluminum housing as the rest of Lindy's models. The DST-Mini XT is the perfect option for turning your laptop into a versatile workstation by having all your peripherals connected to the docking station and just connecting one cable to your laptop when you want to be extra-productive.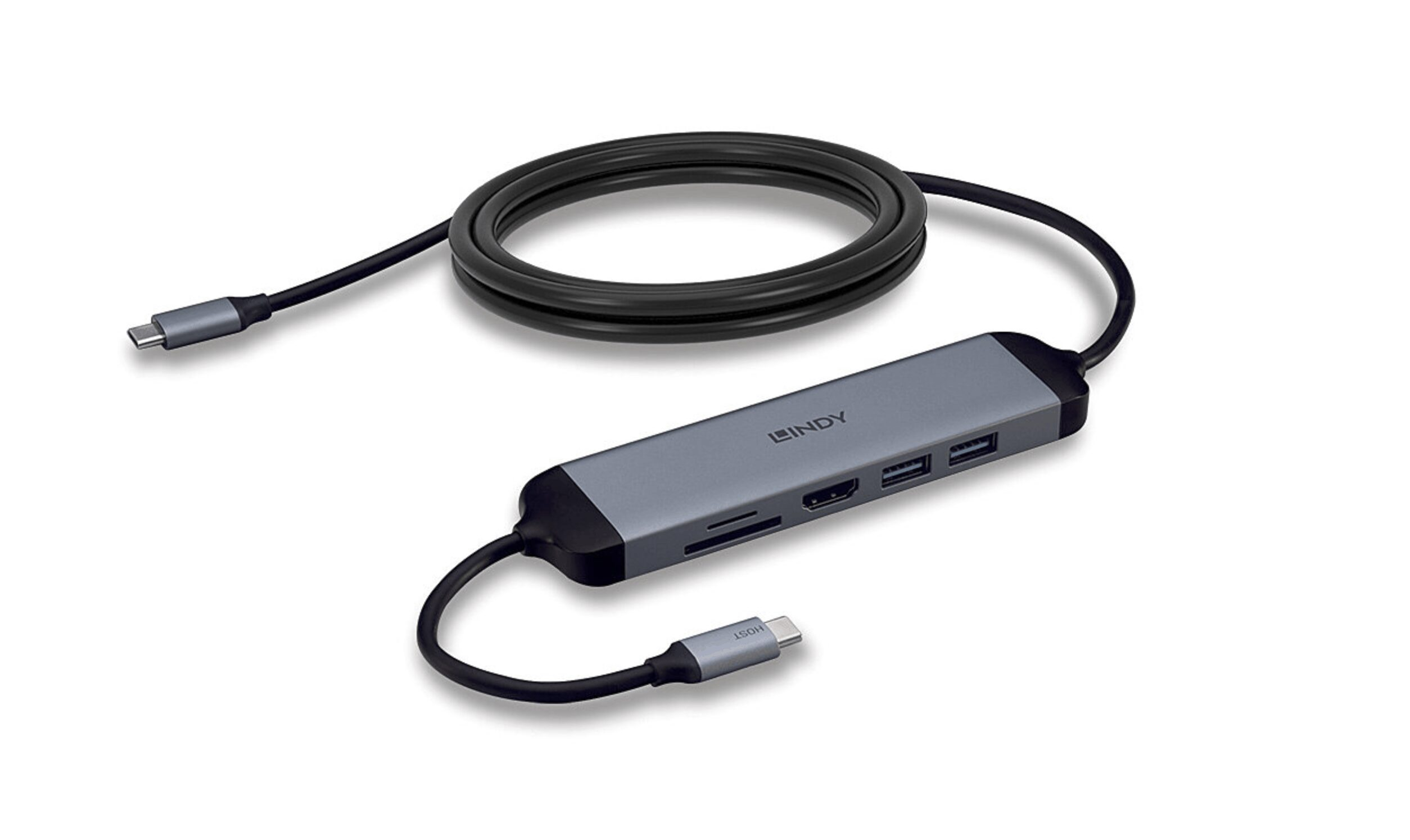 Lindy DST-Micro 140 
The extra cable offered by the DST-Micro 140 universal docking station arguably makes for a cleaner desk than any other docking station could potentially offer.  
Usually, docking stations come with the option for X Watts of power passthrough, which means you will still need both your laptop charging brick as well as the charging cable to be connected to the dock if you want to charge the laptop while using the docking station. But with this docking station, you will need to bring one less cable with you as the other end of the cable plugs into your laptop charging brick (through USB-C) and charges the laptop with up to 60W of power.  
In addition to this incredibly unique feature, the DST-Micro 140 Lindy docking station is capable of 4K resolution @30hz (2K @75hz), offers you two USB-A 3.2 ports, and microSD and full-sized SD card slots. This docking station is ideal for Thunderbolt 3/4 ports on modern laptops, as well as new MacBooks.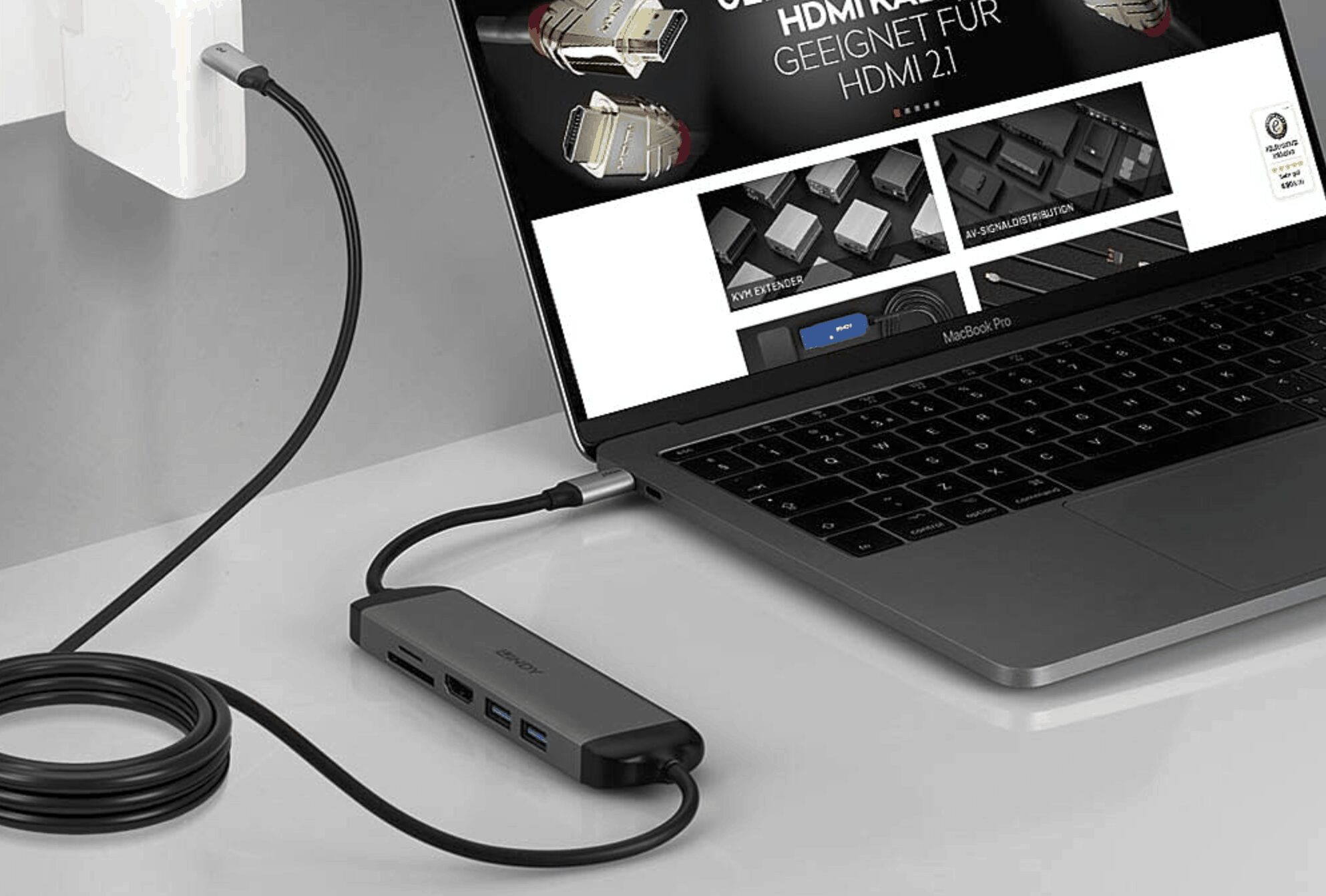 Conclusion 
The DST-Mini Plus universal docking station offers enough ports for most power users, but especially for users who often need to connect their laptop to a projector or a display at their workplace or university that uses the legacy VGA connector. But if you don't need to connect your computer to a VGA-enabled device, you would be better-off with the DST-Mini XT. It ditches the old VGA port with a much more modern DisplayPort 1.1. You also get the ability to charge your mobile phones through the USB-A ports at a reasonable speed.  
But if you are feeling adventurous! You may need to look into the DST-Micro 140 that allows you to carry one less cable if you want to bring your docking station with you as it ditches the power passthrough functionality with giving you a power cable that you can directly connect to your laptop's power brick. Whichever your needs may be, you will most likely find a model in this list that suits your needs best.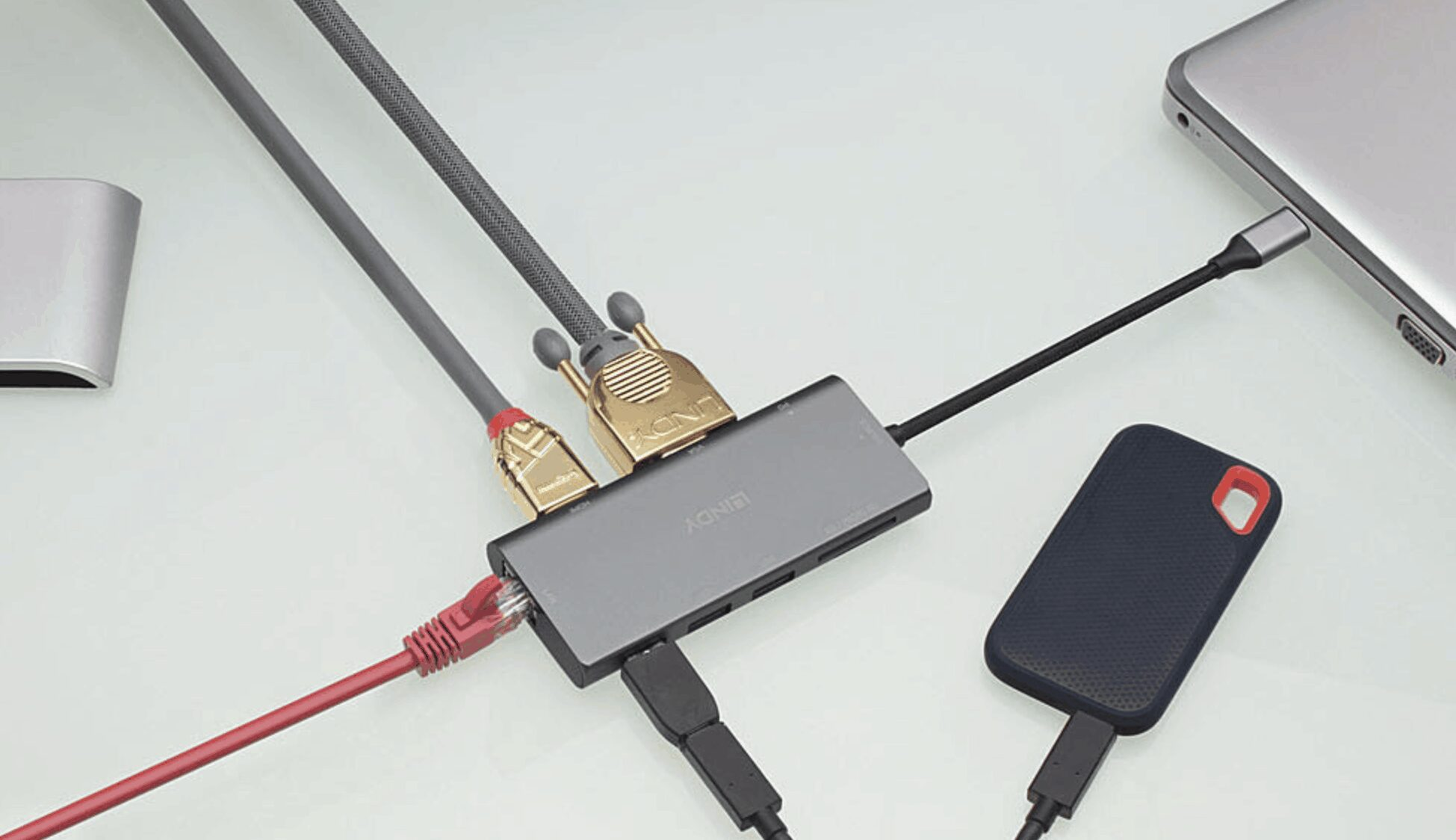 Interested in learning more about Lindy docking stations? 
As the official distributor of Lindy's products in MENA, Newcom offers a wide range of Lindy docking stations, including the universal laptop docking stations mentioned above. 
If you are interested in any of the products discussed in this article, please make sure to check out our products page. For further information or any inquiries, make sure to directly call us or reach out through our contact us page. 
To make sure you are the first to find out about the latest Lindy releases in the region, be sure to frequently check out our blog posts.