The difference between Mac and PC docking stations
Short answer: Not much! The difference typically boils down to the different standards of ports utilized in different docking stations and how popular they are with the platform they are mainly designed for.
Long answer: Docking stations are really just a selection of ports to expand the functionality of your laptop; nothing less and nothing more. No port is exclusive at this point to either platform, hence, docking stations are rarely exclusive to any platform, unless they are designed for a specific model or lineup of laptops based on their physical shape (like the j5create JCD389 that is exclusively designed for MacBook's).
On rare occasions docking stations might also use a proprietary connector that can only connect to a certain model of laptop (like the older Surface docking stations), but they are rather obsolete nowadays thanks to the universality of USB-C. So, whether you are looking for the best Windows docking station or the best dock for your MacBook Pro, chances are you may be looking at the same product.
If you are looking for the best Mac docking station, you need to be a bit wearier, especially when your main goal is expanding your monitor setup beyond a single external monitor. Apple Silicon Macs running the M1 and M2 chips are rather limited when it comes to display extensions; they only support one external monitor. That can be very limiting for users who are used to working with three displays or more. So, looking for a dual monitor docking station for your laptop will become a slightly more complicated challenge.
But one company, Targus, has found a workaround to this issue. Targus docks, such as the DOCK710, use display virtualization techniques to work around this issue. These docks use DisplayLink––a display virtualization protocol––to enable dual display outs on any laptop/desktop connected to it, even Apple Silicone devices that have inherent constraints. The only extra step the user needs to take is installing the DisplayLink driver on their laptop.
The next time you look for a dual monitor docking station for your Apple laptop, you need to consider Targus docks as a safe option that will prevent you from running into compatibility issues.
I think you should address brand-specific docks as well. For instance, HP and Dell make docks specifically for their laptops. I am not sure if they are compatible with other devices and to what extent (esp. Mac), but it would be worth it for you to look into as it could be a point for Targus docks.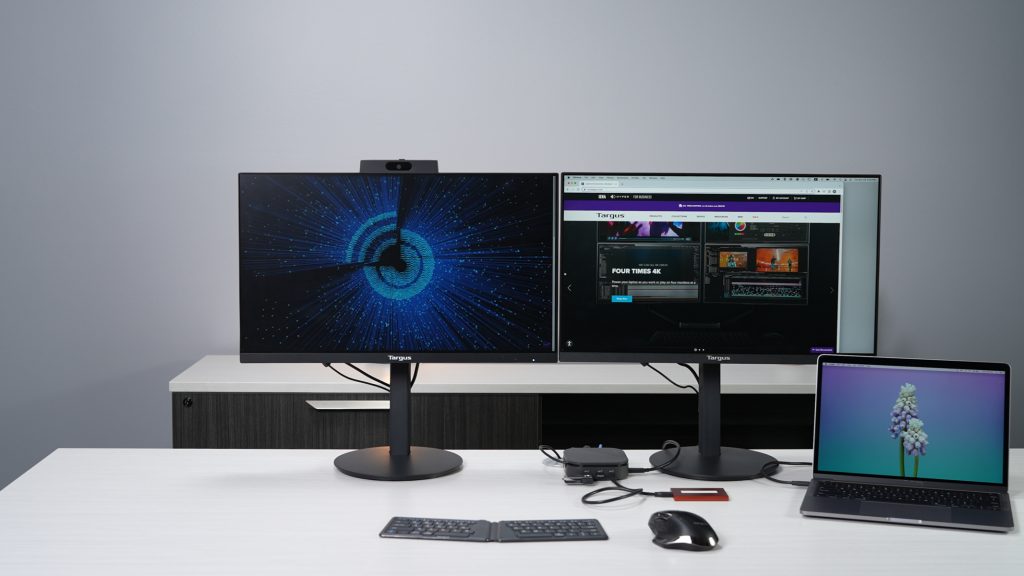 What are "universal" docking stations?
There are only a handful of docking stations that are designed for specific devices or lineups. The rest of docking stations are "universal" in nature. This means that they can be used with any computer, regardless of whether they are running macOS or Windows.
Universal docking stations can offer a wide variety of ports that can be used on any device, making them really versatile options for anyone who wants to turn their laptop into a much more powerful workstation. If you are looking for the best docking station for your Windows laptop, you may find that the device you have your eyes set on might as well be the best dock for a Macbook Pro as well.
How accurate is this? Being universal is a really big "selling point" for Targus, so I want to make sure that if we are stating this, then we can actually support the contention that being universal isn't special at this point.
Who are docking stations for?
Different docking stations have their uses for all sorts of different types of users. We will now examine some demographics that could benefit the most from a docking station.
College students
For many college students, laptops are a must. Because they are constantly taking their laptop on the go, portability becomes very important, so a lot of students who don't require workhorse laptops decide to go with ultra-portables. While ultra-portables are lightweight and are great at being portable and getting things done on the go, as soon as you want to connect a couple of hard drives or extra peripherals to them, their flaw becomes apparent. By getting a docking station, you can drastically expand the functionality of your ultra-portable at any time.
Of course, it is fitting for an ultra-portable laptop to be accompanied by a portable docking station as well. So, we recommend going with portable docking stations that don't require their own power supply.
Remote workers
Depending on the type of work you do remotely, you may need a different number of peripherals to be connected to your laptop at any given time. For example, if you are a photographer, you are probably working with several hard drives, flash drives, and SD cards; if you are an artist, a pen tablet or a couple of other interface devices; if you are a music producer, several different MIDI inputs. And of course, for all these professions, you may benefit a lot from having one or two additional displays. A docking station allows you to connect all of these devices to your laptop by connecting a single USB-C cable.
Day traders
The image that we have of a day trader's setup is typically a triple or a quad monitor with red and green candle-bars on the screen. Multi-tasking is the name of the game for day traders and that can be much more easily achieved by adding a few extra monitors. What better way to add these extra monitors than by using a docking station?
Gamers
Gamers can very quickly run out of ports. From wired mice and mechanical keyboards to USB microphones and headsets or the addition of a Stream Deck, gamers are as powerful as power-users become. Naturally, they could benefit a lot from having a few heavy-duty ports added to their setup. Of course, the addition of extra display outs doesn't hurt if you want to add more than one display to your laptops because gaming laptops typically don't come with any more than a single display out.
Our universal docking station recommendations
Lindy DST-Mini XT: a portable powerhouse
Docking stations such as the Lindy DST-Mini XT can be seen as a good baseline for what you can expect out of a very portable docking station that has all the ports you will need, and then some. This is regardless of whether you are looking for the best Mac docking station or the best Windows docking station. Although far from the biggest docking station on the market, it offers a DisplayPort and an HDMI for video out, two USB-A ports as well as one USB-C port capable of charging your laptop supporting PD standard of up to 100W, a Gigabit Ethernet port, SD card slot, and an audio combo jack.
There is not much else to ask of a docking station. And this Lindy dock manages to do all of that without needing its own separate power source, making it very portable. The DST-Mini XT is a truly universal docking station that can be a great option as a Windows laptop docking station just as much as it is for Macs.
Logi Dock: a universal docking station with a very specific purpose