Over the years of being a distributor of Targus, we have received several frequently asked questions by our customers regarding their docking stations. To help, we have decided to put these questions in one neat FAQ article to help you out in case you have similar questions about Targus docking stations, or any other docking station for that matter. 
What are the most common types of ports included on Targus docking stations?
It heavily depends on the type of dock you are purchasing. But let's look at one of the most packed docking stations in terms of the variety of ports, so we make sure we don't miss any one of them.
In the Targus QV4K dock (DOCK570), you will find all the ports you will ever need to turn your laptop into a full-on workstation. You get a few USB 3.0 ports (with one that is capable of fast charging your phone) one USB C 3.0 port that can charge your laptop up to 100W of power, a Gigabit Ethernet port, a combo audio port, and four sets of HDMI/DisplayPort++ outputs that support up to 4K video. Of course, to power all these peripherals, there is a separate power brick accompanying DOCK570.
This dock also has a trick up its sleeve. It has a separate power output that you can use with the included power tips to charge your non-USB C laptops from the likes of ASUS, Lenovo, and Dell.
Here are all the relevant ports, listed for convenience:
USB A 3.0 ports (some capable of fast charging)
USB C 3.0 ports (some capable of up to 100W charging)
Gigabit Ethernet
Combo audio port
HDMI 2.0/DisplayPort 1.4 ports
Laptop charging out, with included power tips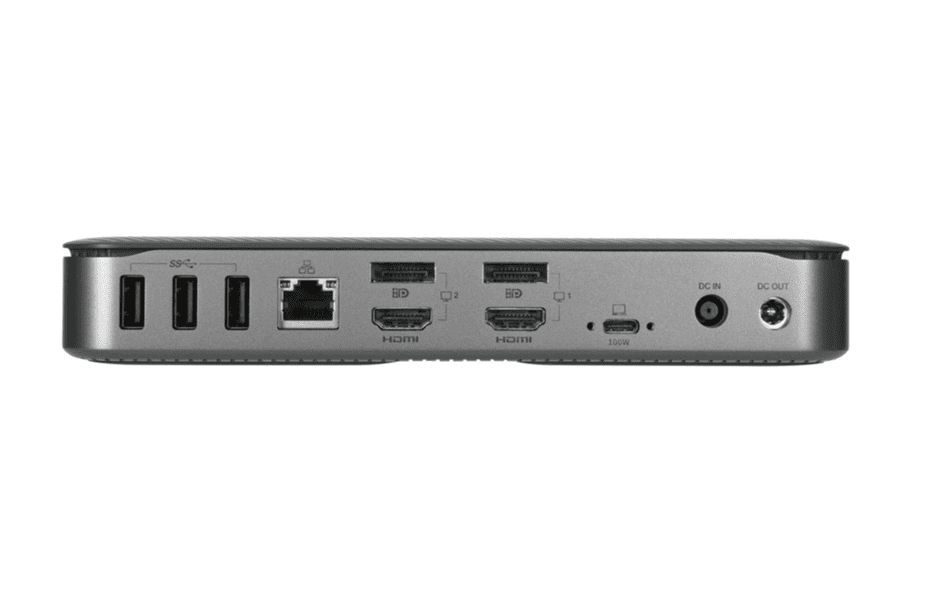 What ports do Targus docking stations offer for display connectivity?
We will use the DOCK710 to demonstrate the kind of display outputs that you can expect out of a Targus docking station.
In this dock, you will find two HDMI 2.0 ports and two DisplayPort ports that are capable of outputting 4K image at 60hz. Alternatively, you can connect a single 8K display and run it at 30hz.
The reason why you can't get four 8K streams out of all the ports is heat. 8K footage requires a lot more bandwidth than 4K and thus generates more heat in the process. There really isn't much of a difference between the two standards in most cases; but if you must know, DisplayPort 1.4 supports up to 32Gbps of data transfer, while HDMI 2.0 supports only up to 18Gbps, even though both support up to 4K at 60hz.
Why are Targus docking stations called universal?
Simply put, it is because you can use them on both Mac and PC computers. However, you will mostly see users purchasing Targus docks for Windows computers and not Macs. The reason for this is mainly because marketing for these two user bases is very different, and Targus has mainly focused on the Windows market. Nevertheless, these docking stations are just as suitable for Mac users.
Another reason why Targus docking stations are universal is because of their use of DisplayLink technology. Different laptop models can get problematic sometimes with display outs attached to their ports via USB. So, to avoid any compatibility issues and make the docking stations truly universal, Targus has opted for DisplayLink+ technology in all their docking stations to allow for video output through USB by virtualizing a display. In this way, there is technically no physical display output connected to the computer, at least as far as the laptop itself is concerned, to avoid potential compatibility issues.
Are Targus docking stations portable?
Yes and no.
Some models, like the DOCK119 or any of the models mentioned above, are not designed for portability. They have far too many heavy-duty display ports for that to be possible. But if you take away a couple of the display ports, it becomes a lot easier to power the dock.
If you look at the DOCK116 you will see that it has dual HDMI outs with no DisplayPort. And HDMI ports are using the 1.4b standard that needs less power compared to the 2.0 that you will find in the more heavy-duty Targus docks. You still get up to 80W of power throughput to allow you to charge your laptop with its own charger connected to the dock. DisplayPort is a more power-hungry port compared to HDMI, and this is why you see them mostly in powered docking stations and HDMI in non-powered USB hubs.
Does Targus offer laptop docking stations?
Yes––lots of them, in fact. All Targus laptop docking stations use DisplayLink technology, so you will not run into any compatibility issues when connecting your second or third display to it. They come in a variety of shapes and sizes and number of ports.
If you aren't looking for quad display setups, you might just be able to go for a portable docking station as well. Otherwise, if you are thinking of connecting a single cable at your home office desk to your laptop to turn it into a workstation, models like the DOCK177 give you all the ports and display outs you need. All the stationary docking stations mentioned in this FAQ also have VESA mount capability, so that you can hide them behind your monitor for extra space saving (VESA bracket sold separately).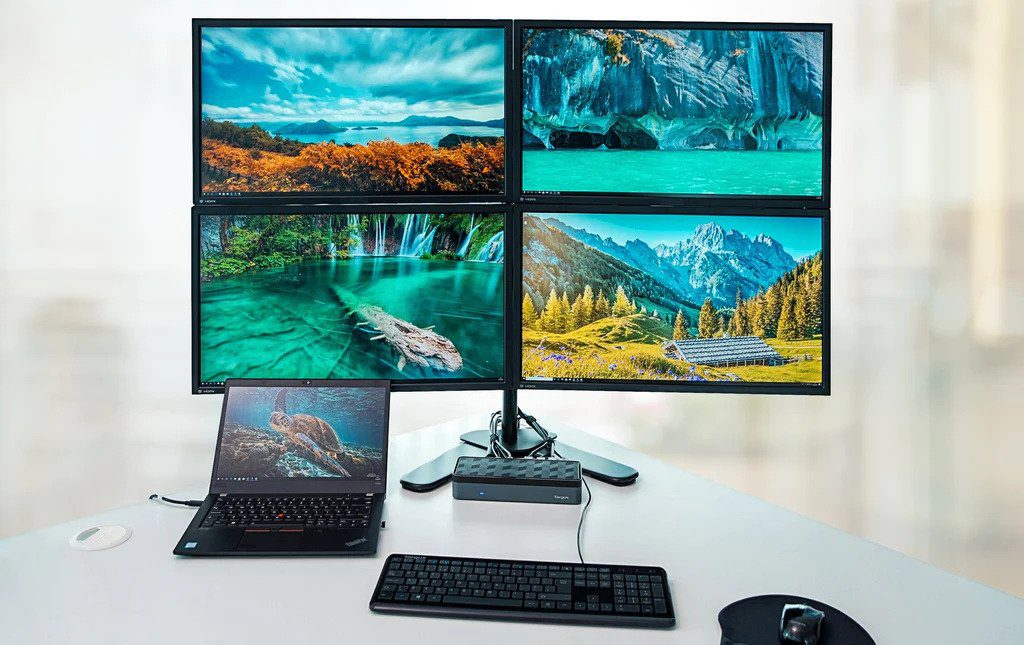 There's a Targus dock for every user
Targus docking stations are primarily designed more for power users than the average user. The design and the ports are heavy duty and high quality with best-in-class compatibility thanks to DisplayLink+. They generally have a more industrial look to reflect their industrial nature; they are built to last. However, you will still find more sleek low-profile models if you look into our list of Targus docks at this link.