It is interesting to see how one lineup of products can create its own category, sell very well, and yet remain uncontested in that category well after its initial release. Of course, we are talking about Samsung's smart monitor lineup of displays that created the "smart monitor" category and have been enjoying a successful and uncontested run since late 2020.  
To this day, the Samsung smart monitor lineup remains the top one in being capable of offering products that act as more than just a display. Among the best Samsung smart monitors, they have their own brains, their own OS, their own remote, and overall, their very own identity.
What is a smart monitor?
A smart monitor is a monitor that offers features that go beyond it just being a display. Unlike other monitors, one of the main benefits of smart monitors is that they possess standalone functionalities without the need to connect a computer or even a phone to them. These functionalities include being able to work through Office 365 suite, browsing the web, and watching your favorite content on popular streaming platforms such as YouTube, Netflix, Hulu, Apple TV+, etc., or even jumping into a video call straight from the monitor! Of course, these all mean that the monitor must also come with built-in speakers. Having a wide range of connectivity options––wireless connections included––is also an important feature in smart monitors. 
To familiarize you with the plethora of amenities offered by these one-of-a-kind monitors, we are dedicating the rest of this article to listing and explaining the various features offered by Samsung's smart monitors lineup. These monitors are featured among the best Samsung smart monitors, and for good reason! We will also introduce the three different models of these monitors to you and provide an overview of their offerings. 
Who are 
smart monitors
 for?
From college students living in dorm rooms who don't have the space for both a monitor and a TV, to remote worker who spends most of their day in their home office or someone who wants to have an extra display handy anywhere but in front of the couch or in their home office, the M7 has loads of use-cases. Only the most hardcore gamers should probably look elsewhere because while the resolution is certainly up to par with their demands, they might take issue with the 60hz cap on the refresh rate of these displays, or the fact that they don't have the highest response time for competitive gaming.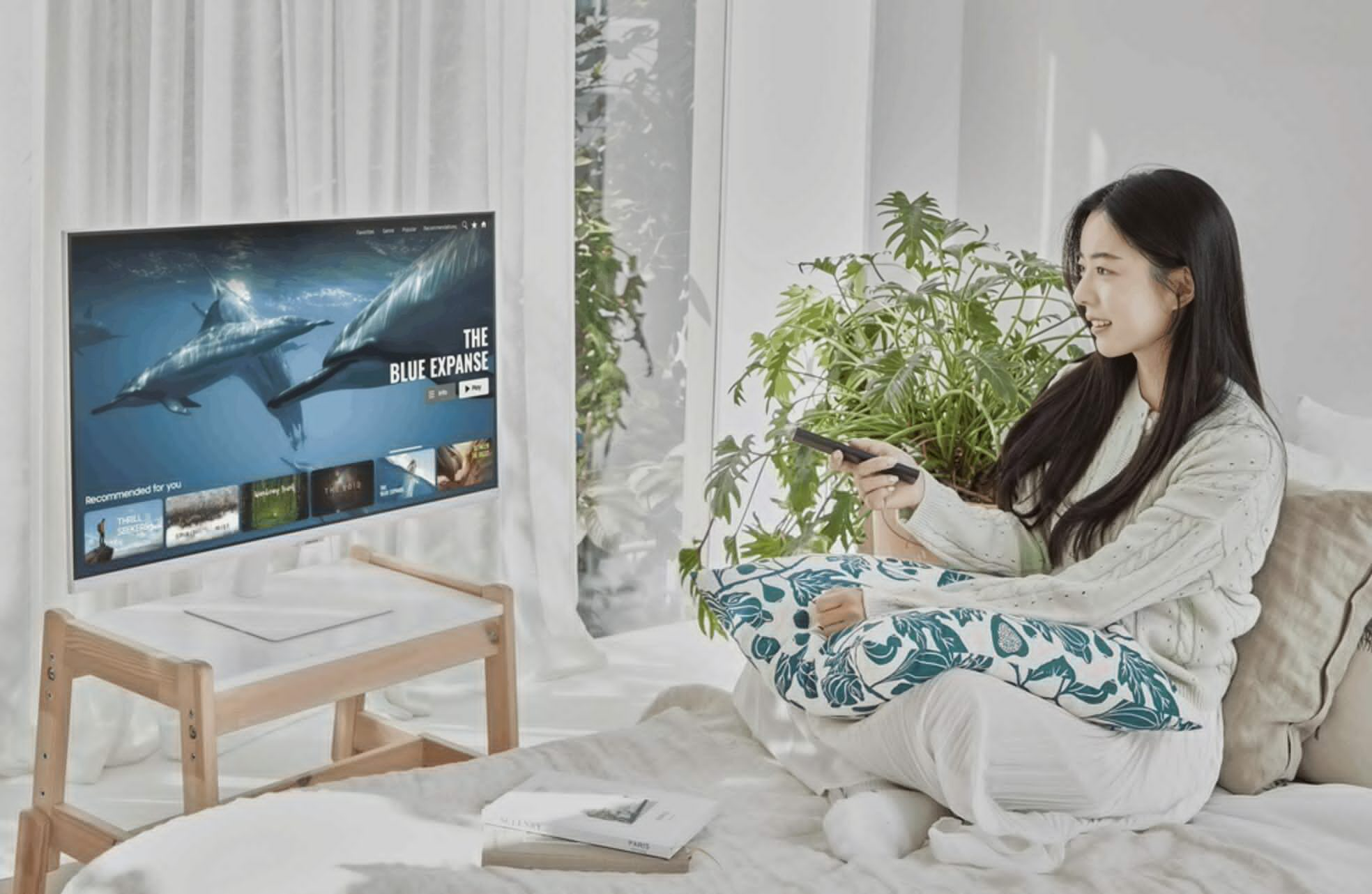 A college dorm dream!
College students living in a dorm room are one group that could best benefit from the Samsung smart monitors.  
Think about it. The room is small, you are done with your work at your desk, and now you want to lay back on your bunk bed and catch up on a show. Most students just resort to their phones at that point because you can't stand the inconvenience of going to the desk to control your media, turn up/down the volume, skip a few scenes, or selecting an episode and then go back to your bed and lay back. 
But if you had a remote that you could use to do all those things from the comfort of your bed, you wouldn't need to resort to the tiny screen on your phone to watch your shows. This would also come in handy for movie nights in dorm rooms when no one wants to keep moving to play/pause whenever you want to analyze a scene. A 27"-32" smart monitor and a dorm room are truly a match made in heaven!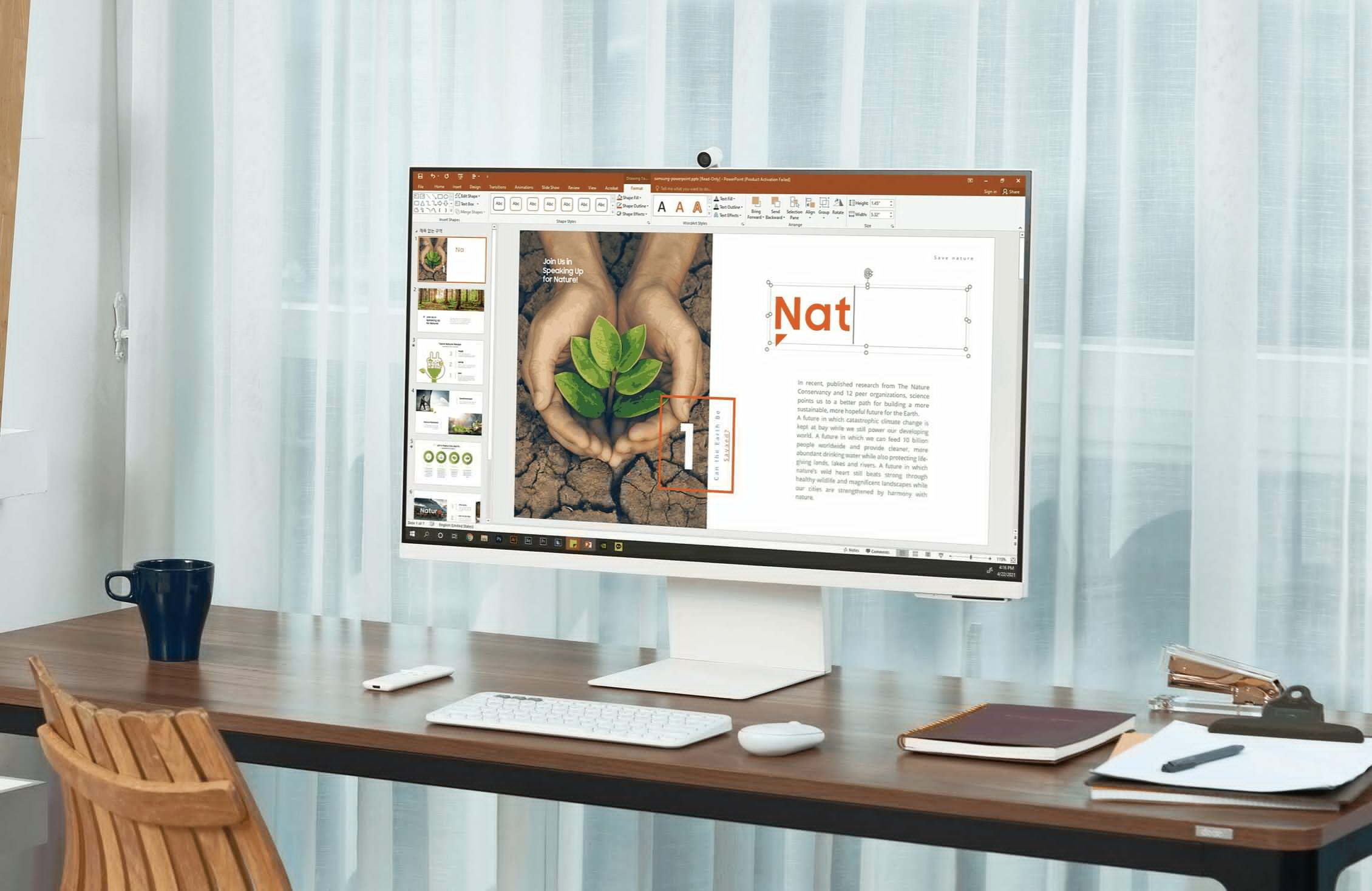 Samsung's smart monitor features 
Connectivity options 
Outside of connecting to your computer or your set-top box via HDMI, you have a variety of other options for connectivity with Samsung smart monitors. If you want to use the monitors in standalone mode, you can connect a keyboard and mouse wired or wirelessly through Bluetooth. Similarly, you can use Bluetooth to stream audio from your phone. Speaking of phones, if you have an Android, you can use Cast to share the content of your display.  
One of the top benefits of smart monitors featured in the Samsung M series monitor lineup is that if you have an iOS device, you would be pleased to know that these smart monitors are the only ones on the market that feature Apple's AirPlay 2, allowing you to broadcast the screen of not just your iPhone and iPad, but also your Mac! 
The smart monitors featured in this article have a certain quality-of-life feature (known as Auto Source Switch) that automatically switches the signal to your gaming console when it detects that you have turned it on. This could extend to a DVD player or anything else of that sort as well. 
Samsung DeX 
This is a feature offered only by Samsung's best smart monitors. If you have a Galaxy phone that supports DeX, then you already know that these home office monitors surely support Samsung's desktop interface to let you turn your phone into a productivity powerhouse. This can be done through USB-C or wirelessly*. You may use your phone as a trackpad to interface with the OS, but it would be a much better idea to connect a pair of wireless keyboards and a mouse, as using the phone as a trackpad is a less-than-ideal experience. 
*Wireless DeX only works on newer Galaxy phones and tablets such as Tab S7, Note 20, Z Fold 2, etc. (check compatibility)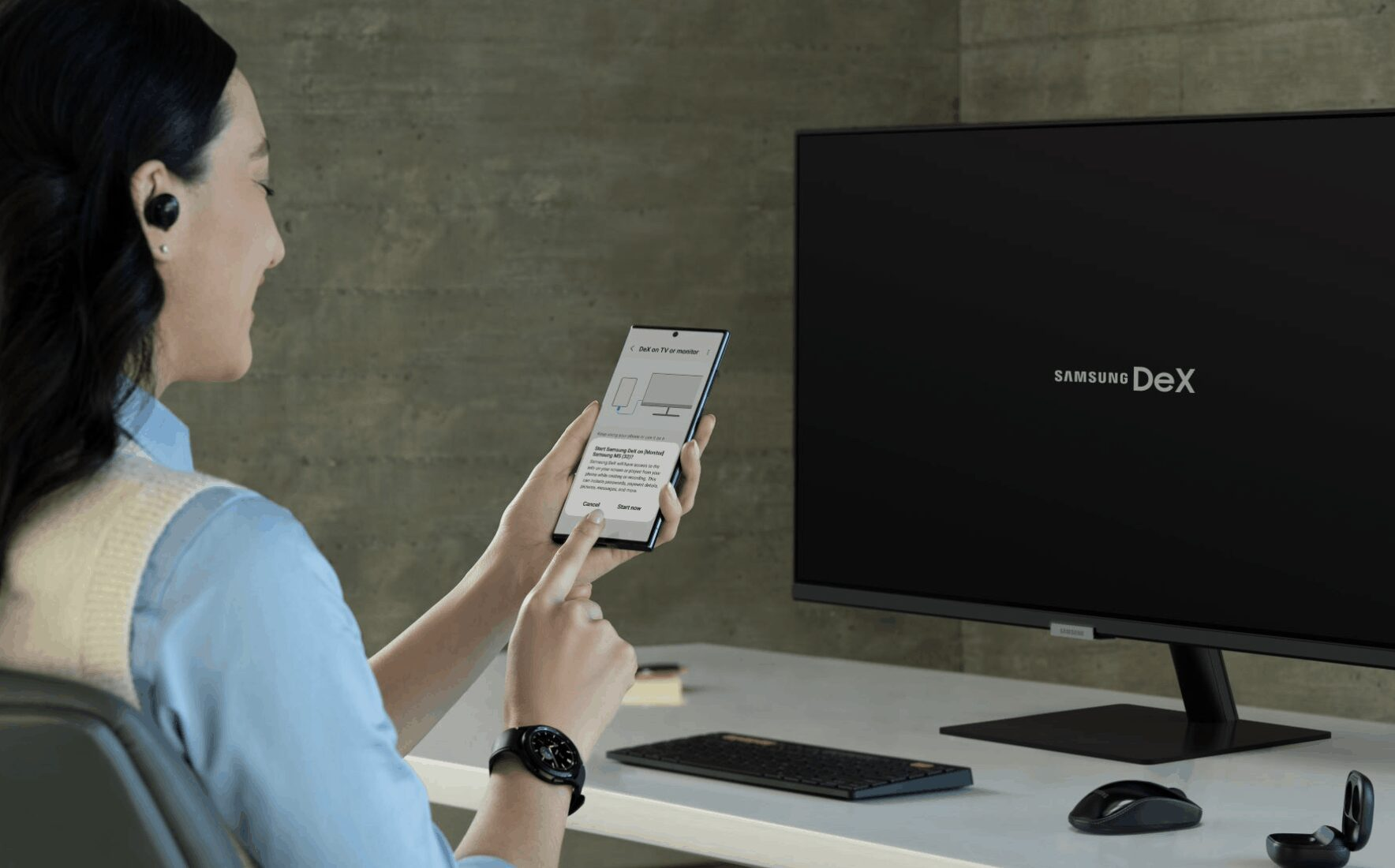 Wireless connection for computers
This feature means you can use the Samsung smart monitor as a secondary display for both your Windows and Mac device through Bluetooth connection and AirPlay 2, respectively. This is especially handy if you would like to keep your desk clutter-free and just have the home office monitor and the laptop on it without even a separate mouse or keyboard.  
There are other use-case scenarios for this wireless connection too (all involving laptops and not PCs). Let's say you already have a wired connection to a display at your desk, but you want to be able to work elsewhere in the house, such as the kitchen, where you don't have a computer desk. In that case, you can just use the Wireless Dual Display to connect your laptop to the smart monitor.  
Wireless connection for phones
If you have an Android device, as mentioned before, you can use the Cast button that you can see in pretty much every media app and select the smart monitor to mirror your screen.  
A great benefit of these smart monitors is that there is an even simpler, more elegant option at your disposal: TapView. If you have the Samsung SmartThings app installed, you utilize this smart monitor feature by tapping your phone on the edge of the monitor to see your screen pop up on the monitor instantly.  
On iPhones, sharing is as simple as pulling down the control center, tapping the share button on the top-right of the media controls, and selecting your smart monitor from the list. It's as simple as that. Mind you, AirPlay 2 is not a sharing option you will find on any other third-party monitor on the market.
Introducing the 2022 Samsung smart monitor lineup  
Samsung M5 smart monitor 
The world's first do-it-all screen is what started the Samsung M series monitor lineup. This affordable HDR 10-enabled display is the most feature-packed monitor in its price point and way beyond. The Full-HD display also features an auto-brightness adjustment with the ambient light sensor.  
Ultra-wide mode functionality 
While not a gaming-focused monitor, this is a smart monitor feature that some gamers might find very useful; you can switch the display to ultra-wide mode with a 21:9 aspect ratio to reveal previously hidden areas in your game. The feature might not be optimal for the 24" model, but at 27" and especially the 32" model, there is a legitimate case to be made for its use. 
Entertainment at its finest 
With the smart remote and the Tizen-powered display on the M5 Samsung smart monitor, you can binge-watch your favorite shows on HBO and Netflix or stay up-to-date on your favorite creators' latest uploads on YouTube without a PC or even a separate set of speakers. The M5 feels just as much at home on a table in your living room as it does on the desk in your room or office.  
Great value for the offering 
Unless you will primarily be using the M5 for gaming, the M5 is the best Samsung smart monitor for its price and a solid recommendation to pretty much anyone looking for a feature-rich Full-HD display with a set of speakers at an affordable price. Because of the popularity of the original 27" and 32" sizes of the M5, a 24" model has been added to the Samsung M5 smart monitor lineup.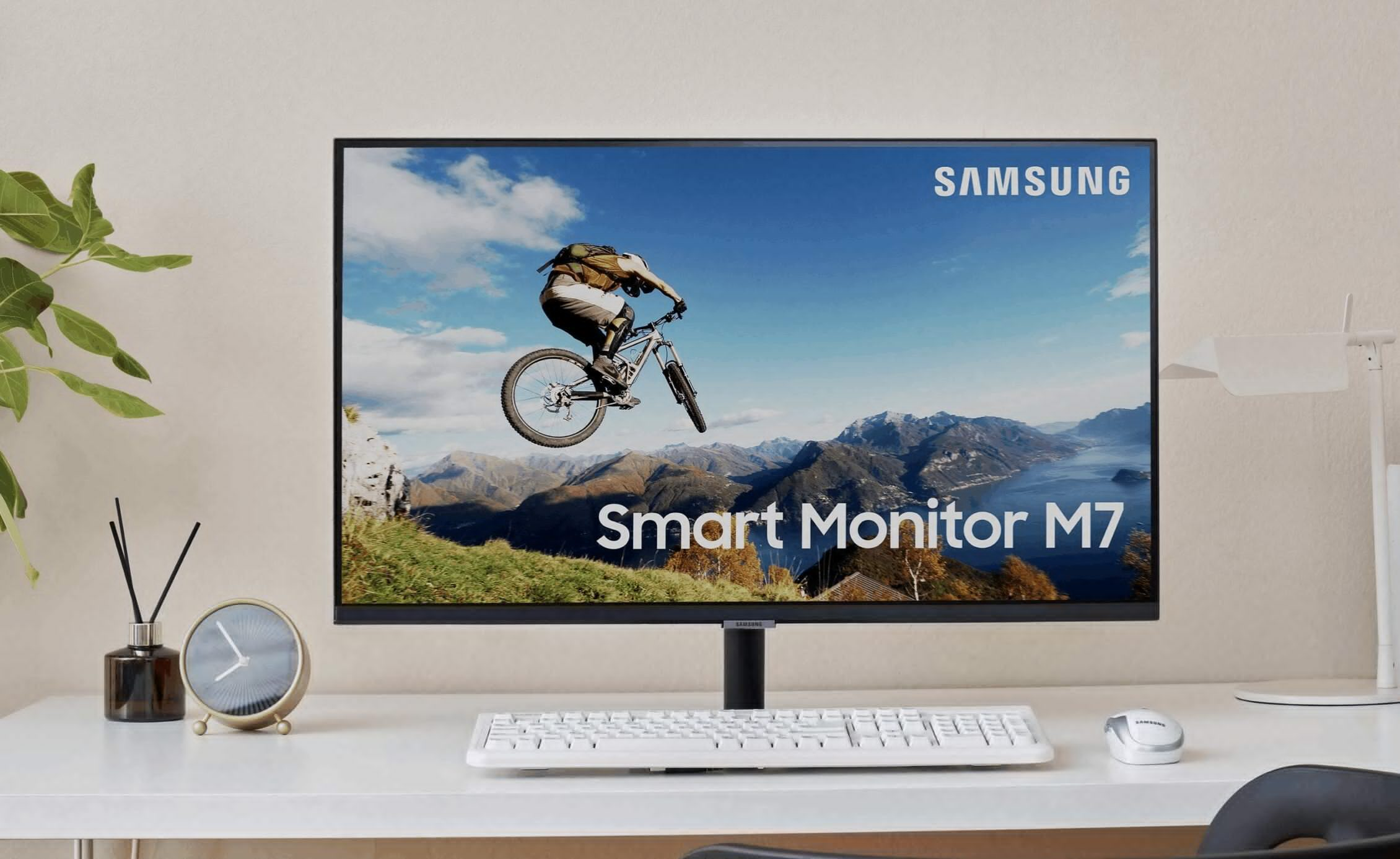 If Full-HD doesn't quite cut it for you, especially at the 32" size, how about jumping to 4K? The M7 Samsung smart monitor bumps the resolution up quite a bit and adds a 43" option to go with it. The 32" M7 is arguably the perfect size for a monitor that can act as an entertainment hub when not behind the desk. At 43", it might be too big for some, depending on the size of the room you place the monitor in and why you are using the monitor.  
A step up from the M5 
One benefit of the M7 smart monitors not found in the M5 is the USB-C connection as both a display input and as a charger for your phone and laptop. If you connect your laptop to the display via USB-C instead of HDMI (and the USB-C port on your laptop can send a video stream) you will also charge the laptop through the same port (if your laptop charges via USB-C). The M7 is the best smart monitor by Samsung in terms of connectivity options.  
Other features this smart monitor offers are mostly the same as the ones found in the M5, except for the speakers, which have improved from the M5 and are now louder, fuller, and more bassy. The display resolution at the price is what makes this monitor an attractive purchase. Finding a 4K monitor at the price that the M7 comes in is already a difficult task, let alone one that offers as many features and connectivity options as the M7.  
Home office perfection 
As a home office monitor, the Samsung M7 smart monitor is ideal, especially if you have it in a room where your computer desk and your bed both reside. One minute you are getting some productivity tasks done on the 4K panel, the next, you are laying back on the bed with the remote, browsing through your favorite shows. In other words, you can say the M7 is a beefed-up 4K version of the M5 for people who are willing to spend more.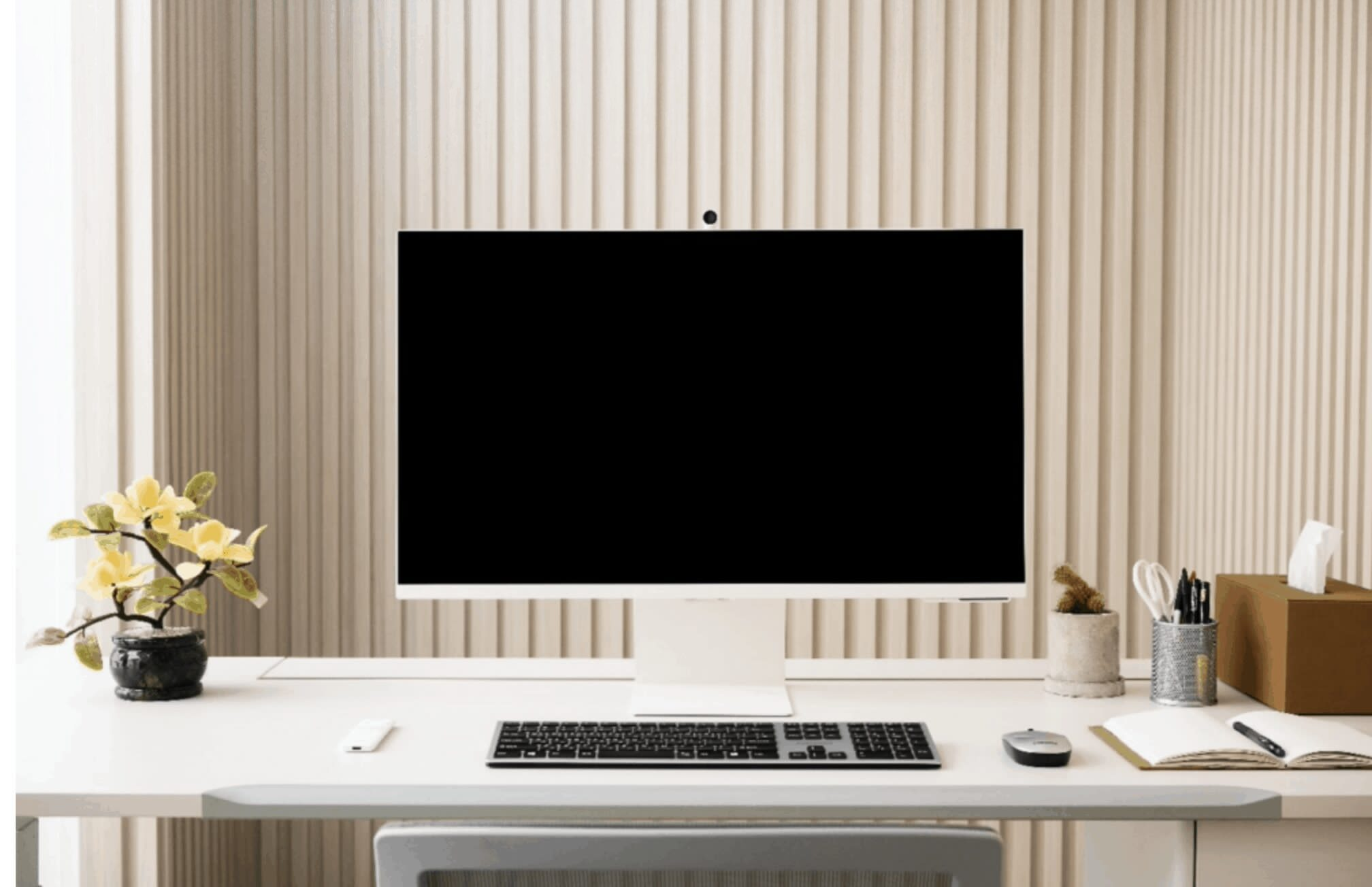 Samsung M8
The best smart monitor of the bunch, the M8 Samsung smart monitor, improves the build and image quality of the M5 and M7 and adds one unique smart monitor feature: a snap-on webcam. 
Design upgrade from the M7
While the bezels aren't much thinner than the M7, if you look at the side profile of the M8, you'll see where the lightness of this sizable 32" panel comes from. The display is so thin, in fact, that there wasn't even enough room for Samsung to include an HDMI port into the chassis.  
Do not worry though, as there is a micro-HDMI port with an included micro-HDMI to HDMI cable available to you. The I/O also includes two USB-C inputs for modern laptops, which can charge the device with up to 65W of power. Other than that, you get a USB-A 3.0 input next to the IR receiver that allows the remote to interface with the monitor. 
Superb display specifications
The panel is another testament to why the M8 is the best Samsung smart monitor; an area where there have been significant improvements over the M7. The M8 still sports a 4K 60hz panel that is now better equipped for gaming with response time of 4ms GtG. The colors are also better, and peak brightness is higher. Build quality has also significantly improved, and the colors the M8 comes in have a lot more variety.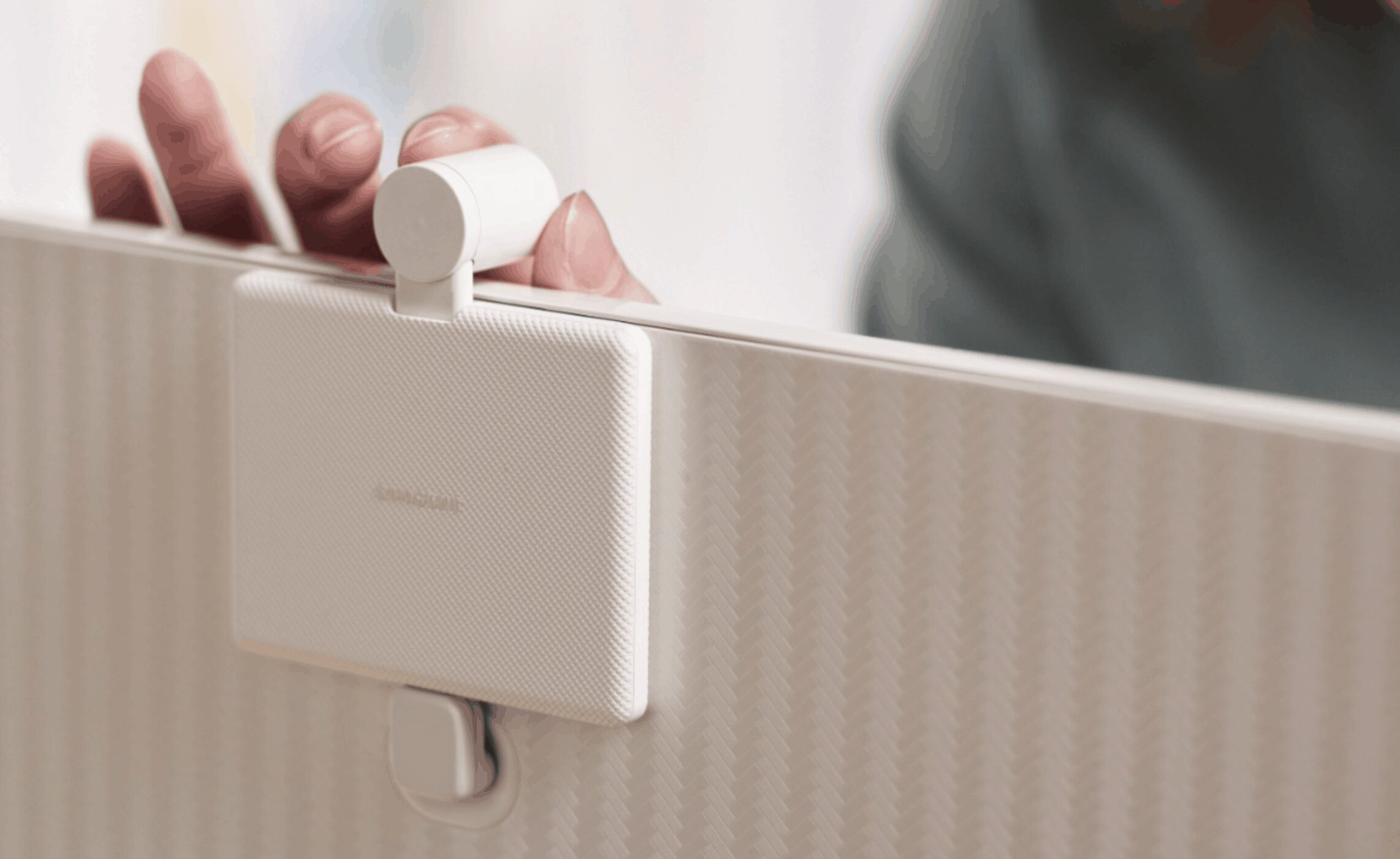 Slim Fit Camera
But now, the biggest differentiating factor between the M8 and every other monitor out there: the Slim Fit camera. The idea of magnetically snapping a camera to the back of your computer when you need it, and snapping it off when you don't, makes so much sense that it left us baffled to think how no other manufacturer has ever done this.  
The Slim Fit camera included in the box lets you snap on/off a truly high-quality 1080p webcam to the back of the M8 as effortlessly as possible. It allows for a little bit of tilt and swivel to get the frame just right. Once you are done using it, you can either snap it off entirely with a gentle tug or put the cap on the lens if you prefer to leave it on. The webcam can be used in Google Duo even without having a computer connected to the display. 
Versatility in use-cases
For enterprise use, the M8 will look great on a reception desk or a managerial desk because of its aesthetics. For a small huddle space or a small conference room where you won't need a big TV, the webcam of the M8 makes for an ideal companion. Of course, if Google Duo is that enterprise's video-conferencing software of choice, they won't even need to bring a computer to the room, as it is baked into the M8's TizenOS.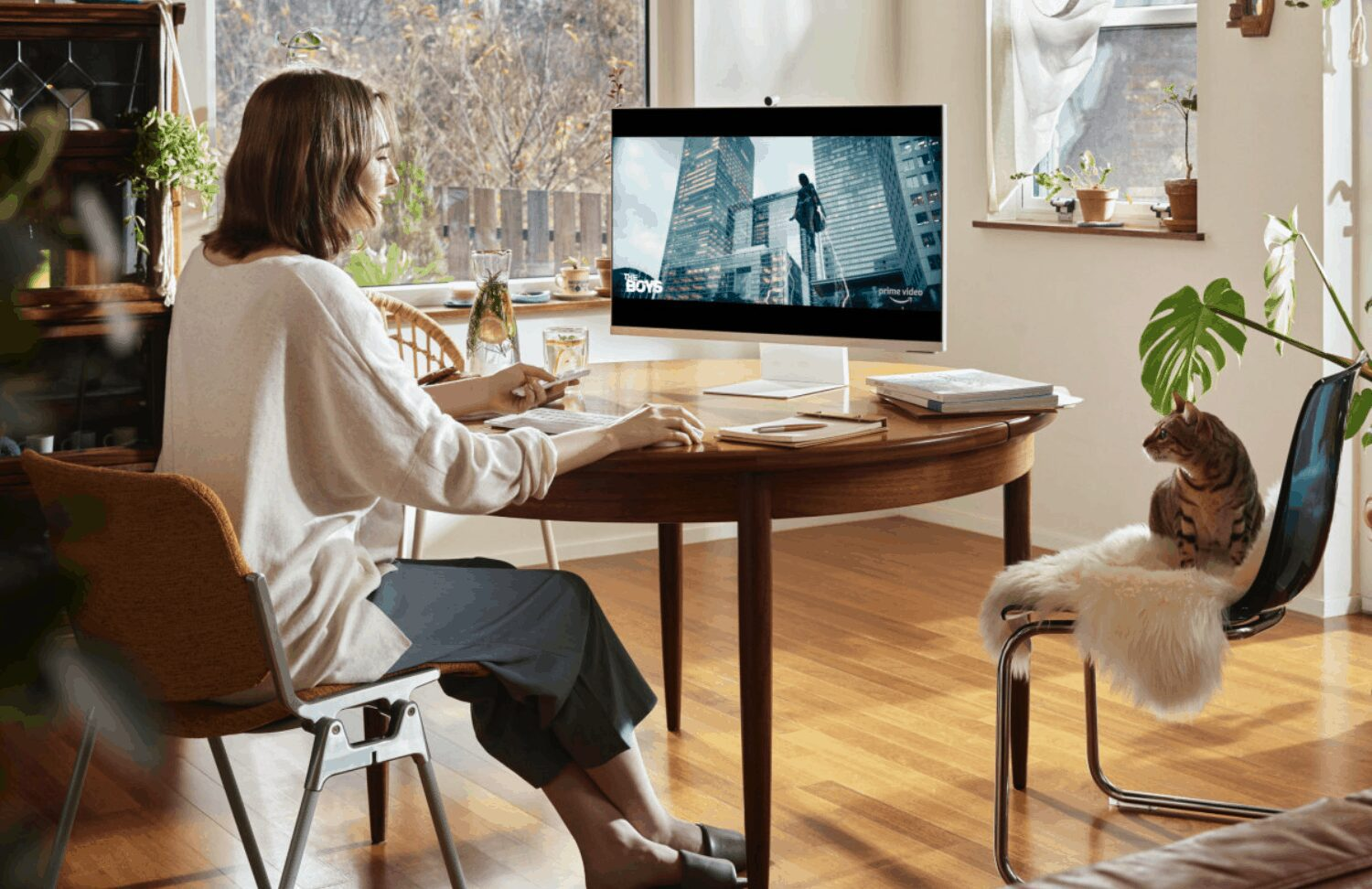 Interested in learning more about Samsung products?
As an official Samsung monitors distributor in the Middle East, Newcom offers a wide range of Samsung monitors, including the Samsung M7 smart monitor, M5, and M8 mentioned above. 
If you are interested in any of the products discussed in this article, please make sure to check out our products page. For further information or any inquiries, make sure to directly call us or reach out through our contact us page. 
To make sure you are the first to find out about the latest Samsung smart monitor releases in the region, be sure to frequently check out our blog posts.