With remote working becoming even more prevalent and employees sitting behind their desks––at the office or at home––longer than ever, the need to care for your health behind the desk has become more important than ever. A big part of it is just taking care of your posture; from what kind of chair you are sitting on to how your wrist is positioned on the desk when you are using your mouse. In this article, we will focus on the latter and recommend a possible solution to it in the form of a vertical ergonomic mouse.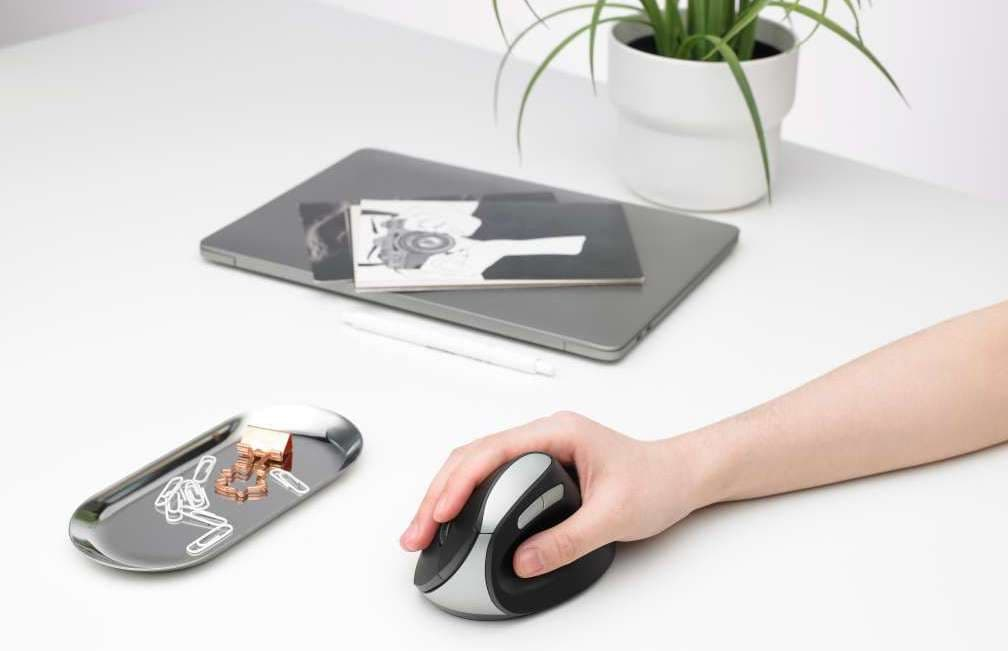 What is an ergonomic mouse? 
A product is typically referred to as ergonomic when it features a design that is more natural for the body to fit into. An ergonomic mouse is one that is made to match the natural positioning and shape of the user's hand, thus creating a more comfortable browsing experience. Ergonomic mice often come in different shapes and sizes and are featured in both gaming and professional mice lineups. The best ergonomic mouse options typically feature wireless connectivity and a multitude of multi-functional buttons. 
Is there a difference between an ergonomic and a vertical mouse? 
Although the two terms can be used interchangeably, not all ergonomic mice are vertical. Some mice, such as the Rapoo VT950, carry the "ergonomic" label because of their contour or the addition of a thumb rest. However, it is more accurate to think of a vertical mouse when you hear someone is looking for an ergonomic option. The vertical design of most ergonomic mice is simply because the wrist is at more ease in this position.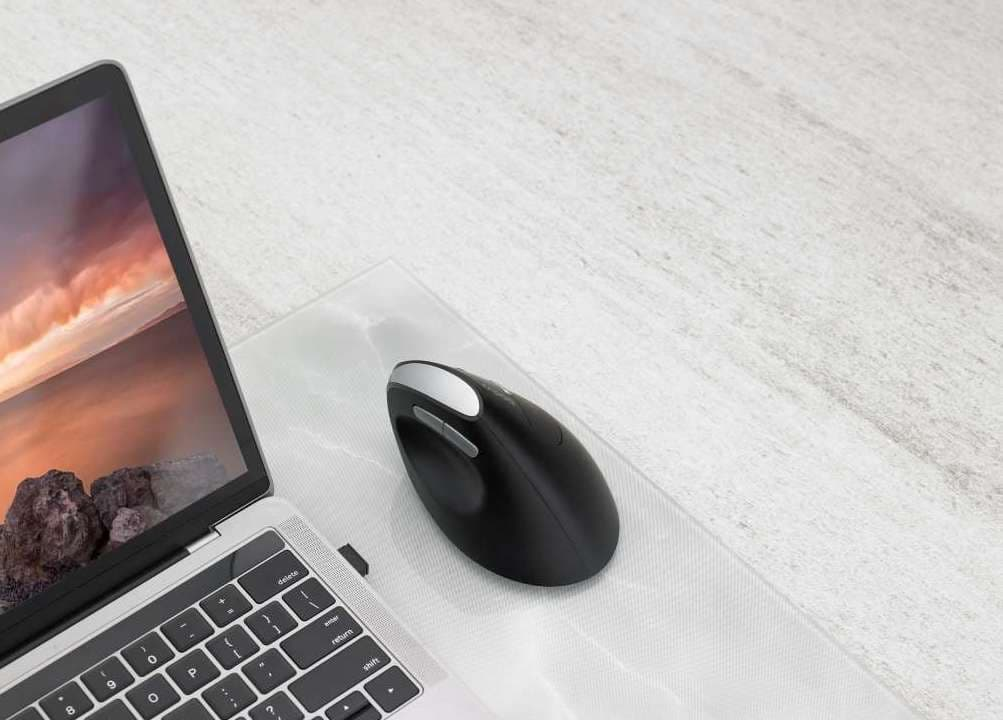 Why use a vertical mouse? 
First of all, vertical mice are not exactly vertical; they are just vertical relative to regular mice. They, at least in theory, angle the mouse in a way that allows the hand to rest in the most natural and comfortable way. If designed correctly, these vertical ergonomic mice can help create further comfort, even improving existing wrist pain and preventing it from developing in the future. 
Prevent arthritis and carpal tunnel syndrome 
Regular mice don't take into account people with arthritis or carpal tunnel syndrome. It is understandable as the majority of users don't have to deal with those problems. But there definitely are a number of mice options for those who suffer from either of the two problems.  
Mice that place the hand and wrist in a natural "handshake" position minimize strain on the wrist and fingers. While resting in that natural position, your fingers no longer need to "grip" the mouse per-se, which puts less pressure on sensitive fingers, especially the thumb. The relaxed position also extends to the forearm and the elbow as it requires less movement from the user. 
Alleviate ongoing pain related to fatigue or ongoing health problems 
Even if you are suffering from some pain in your hands, wrist, elbow, or forearm, you might not have the option to just quit working with your computer for a while until you get better. In these situations, the best thing you can do is to dampen the strain that you would otherwise be putting on your wrist and fingers by using an ergonomic mouse. These ergonomic mice might not be able to fix joint pains or other health problems, but they help the healing process by at least removing the strain from your hand, fingers and wrist.
Our recommendation: Rapoo EV250 vertical wireless mouse 
A great entry into ergonomic mice is the Rapoo EV250. For a very reasonable price, you get access to a comfortable vertical mouse that you can use for hours without any strain on your wrist or fingers. That is because the design of the mouse is in such a way that not only your wrist is at a comfortable angle, but your fingers are also stretched out on the buttons, so they won't get cramped.  
The wireless mouse comes with a USB nano-receiver that houses neatly inside the base of the mouse. There is also a wired version of the EV250, which is called EV200. The features are shared across the two models. Both feature a 1600dpi sensor which you can adjust via a button next to the scroll wheel and two back and forward buttons above the thumb rest.  
One of the major benefits of the EV250 and its wired version, for some, is that they are silent; that is, they are a lot less noisy than your regular mouse-click sound. Thankfully, the scroll wheel is 2D, which can really help when zooming in on browser tabs and images as well as some other nice use-case scenarios. The wired version is lighter as the wireless version has two AA batteries that can last up to 9 months.  
Overall, the Rapoo EV250 is a great entry point to vertical mice and perhaps the best ergonomic wireless mouse option for the price. They are an especially great Bluetooth ergonomic mouse for wrist pain and people who have Carpal Tunnel Syndrome. They offer basic functionalities plus some extra goodies like a silent click, 2D scroll-wheel and a couple of extra buttons on top of the option to go wireless. At this price point, it is easy to recommend users at least trying out a vertical mouse to see if it can possibly bring them a much more comfortable behind-the-desk experience, at least for their right hand!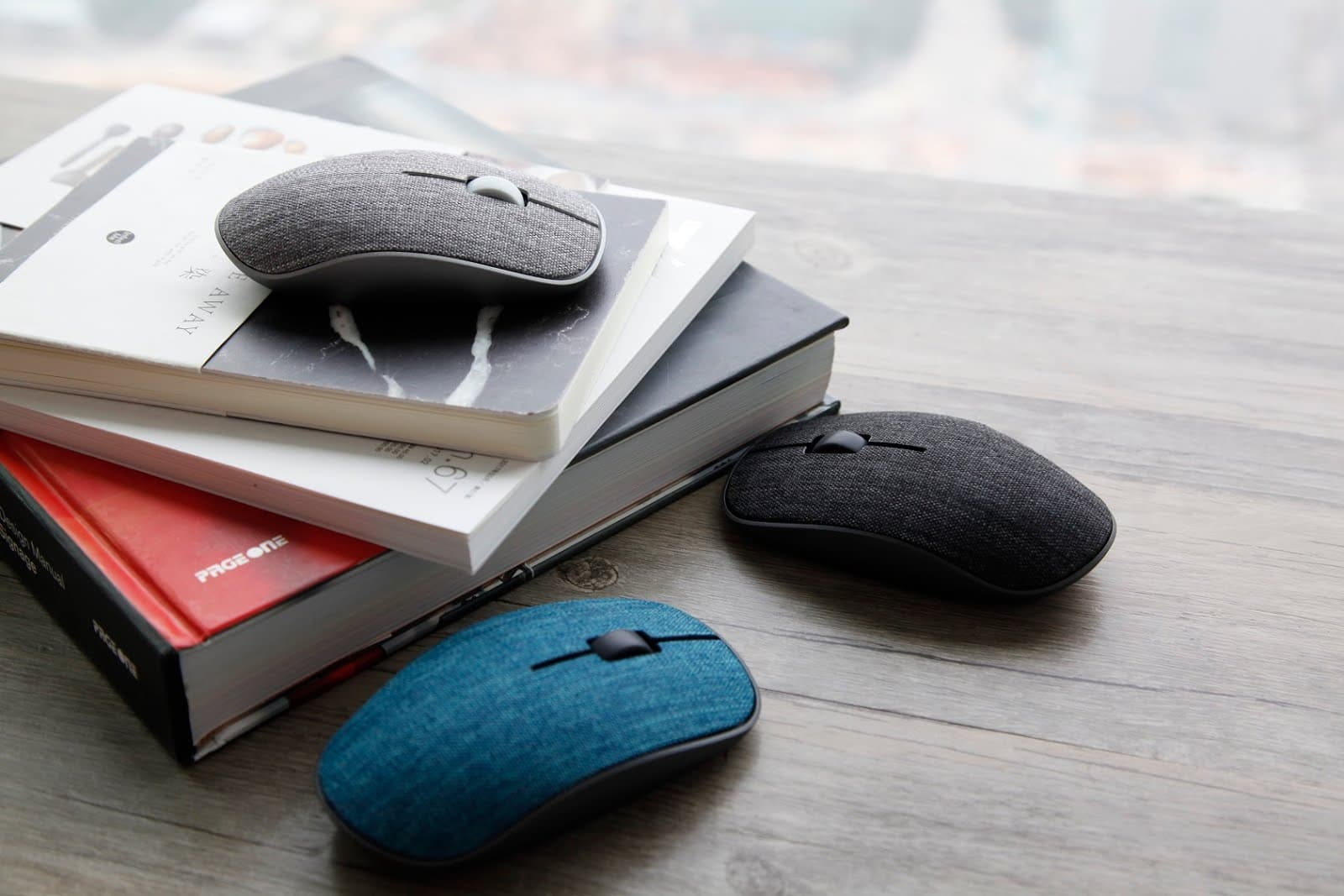 Interested in learning more about Rapoo products?  
As an official Rapoo distributor within the United Arab Emirates, Newcom offers a wide range of ergonomic mice, including the EV250.  
If you are interested in any of the products discussed in this article, please make sure to check out our products page. For further information or any inquiries, make sure to directly call us or reach out through our contact us page. 
To make sure you are the first to find out about the latest Rapo releases in the region, be sure to frequently check out our blog posts.