Gaming desks and chairs are getting a bad rap nowadays because of manufacturers that slap the "gaming" moniker on their products and do not do much else to truly make their product "gaming" focused.  
Of course, the question then becomes…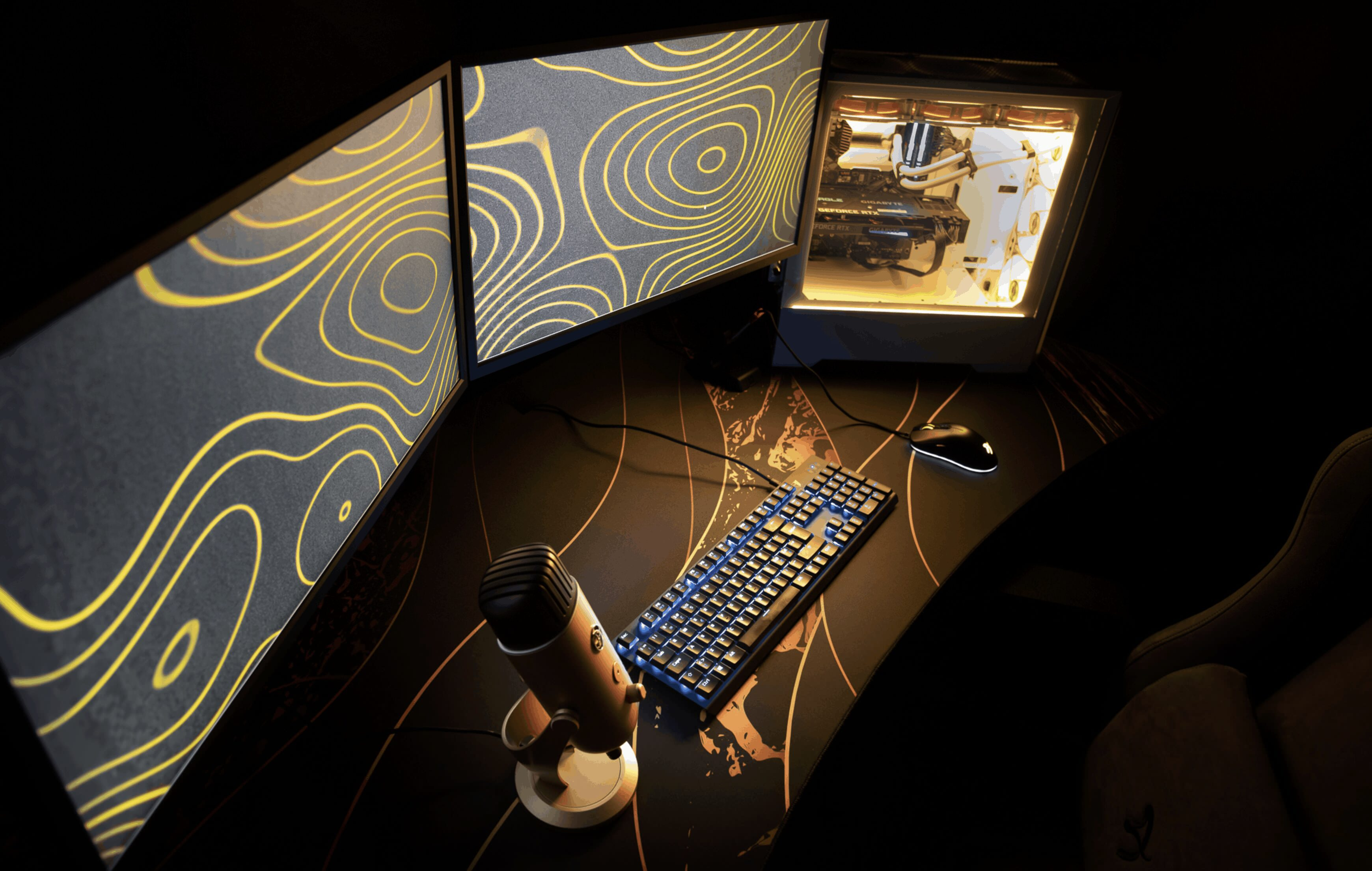 What even is a "gaming" product?
While the answer to this question is rather open-ended, we'd like to think that gaming products are simply a more high-performing version of an average product for an audience that appreciates the little details and quality-of-life improvements.  
Of course, aesthetics certainly play a role too. But because getting the aesthetics to resemble what gamers view as a gaming look––whether that be a simple red and black color palette or blinding RGB implementation––is a lot easier to achieve than paying attention to details and adding useful features, a lot of pseudo-gaming products have entered the market. 
The only way you can shield yourself from falling into the traps that some companies lay out for the unsuspecting gamer is to be vigilant and understand what a good gaming chair or desk is before you start doom-scrolling along the thousands of gaming desks and chairs available online. Providing you with that understanding is the focus of this article.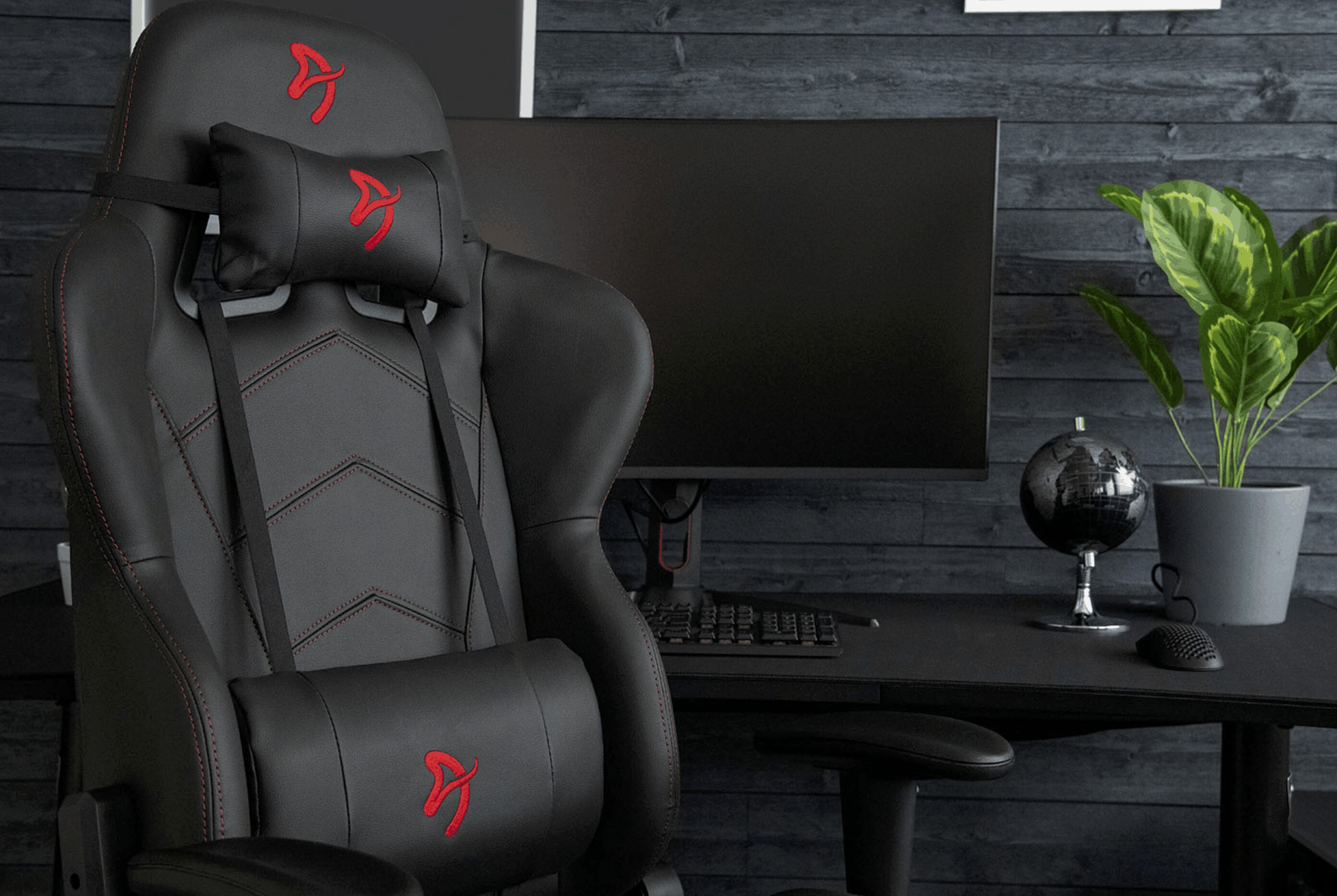 The features of a gaming chair
What does a 
good gaming chair
 offer? 
Obviously, when it comes to a gaming chair, its main functionality is to provide you with comfort; everything else is secondary. While comfort is subjective and a chair that feels comfortable to some might not feel the same way for others, there are still general rules of thumb that you can look out for when picking out a model that has caught your eye. 
Support for your neck and back 
One of the most basic rules of thumb is that you probably shouldn't be going for a model without a neckrest or backrest (although, depending on the person, some believe that having no backrest at all may force the user to sit up straight). You are not likely to find a model without a neckrest or backrest in the gaming chair market anyway, so this requirement is hardly a consideration.  
Additional or built-in lumbar support
The next important feature to consider with buying gaming chairs is the addition of a lumbar support. The lumbar support may come in the form of a pillow that comes with the chair and is hopefully height-adjustable, or it comes built into the chair in some of the more high-end models that can be adjusted, typically using a knob. There are chairs that have a fixed lumbar support built into the ergonomics of the chair, but having the lumbar support may not always be the most comfortable experience.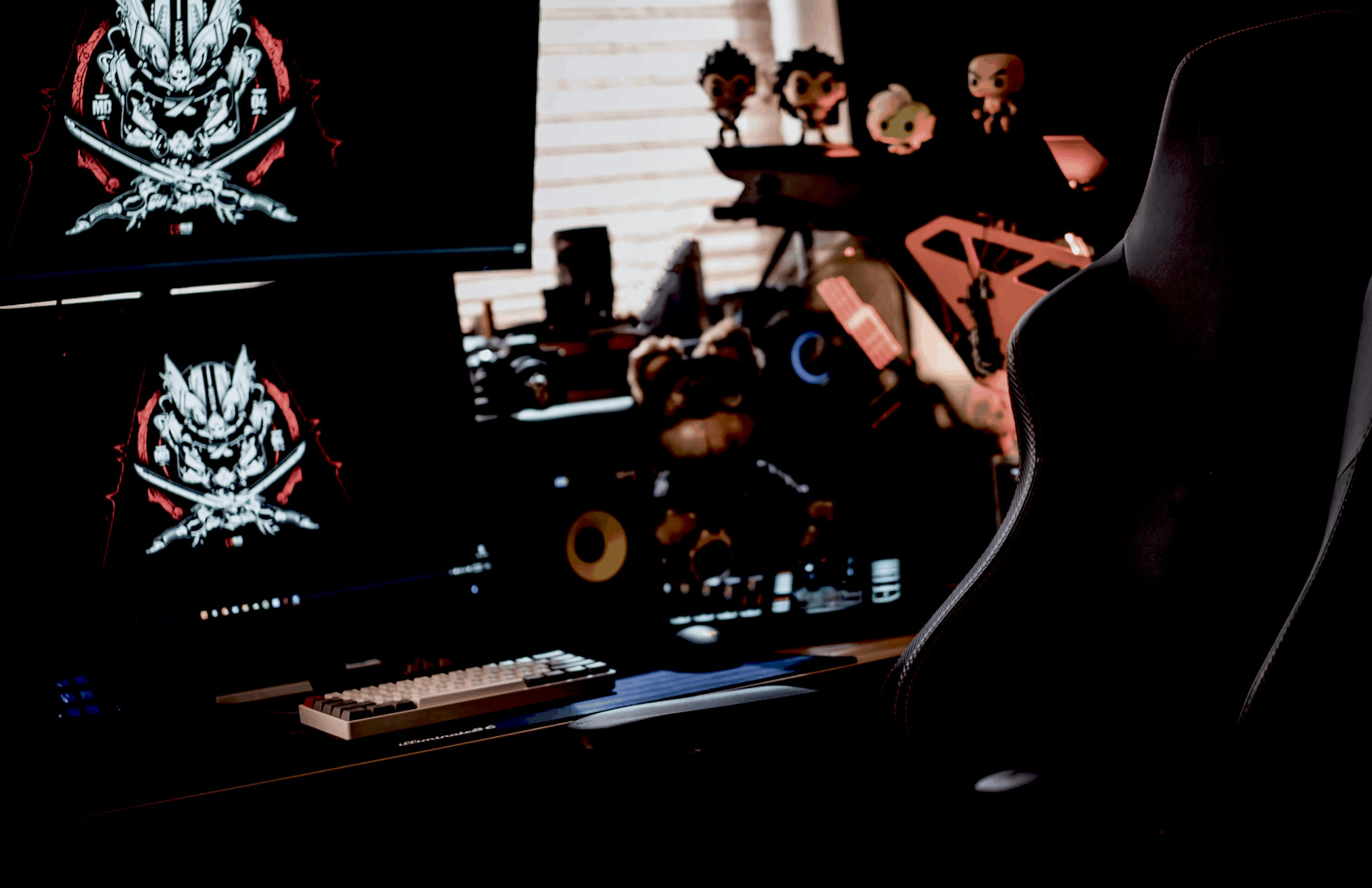 Ergonomic design
The ergonomics of the chair also certainly matters; however, it is much more difficult to measure. A trend among gaming chairs is replicating sports car seats' hugging design that is meant to provide better back support and promote an upright posture.  
Part of the ergonomics also includes the armrest. Because of the various sizes that people come in, we cannot expect their elbows to rest in the same spot if they sit on a chair; taller individuals will want a higher armrest, while broader individuals will also require more distance between the armrests. Although the former group usually has the benefit of height adjustable armrests even in semi-decent gaming chair, the latter rarely gets the luxury of being able to adjust the space between the armrests.  
Therefore, if you are broader or more petite than the average person, make sure to pay special attention to a gaming chair's ability to adjust the distance between the armrests.  
Are 
leather gaming chairs
 better?
The material is also another consideration that mostly comes down to your preference and how you feel about leather seats. Some people like the looks and the premium feel of a leather gaming chair, but they go with soft fabric because they sweat too much. Of course, leather can make the chair quite expensive, which is an extra case for fabric seats. 
What about aesthetics?
In terms of aesthetics, of course, this is going to be a heavy subject. However, we advise that you don't feel obligated to go for a "gaming" look. Comfort and functionality should always be prioritized, and aesthetics should come second. Afterall, as mentioned above, nowadays "gaming" just means high performing. So, when you think about how to choose a gaming chair, make sure you consider all the aforementioned factors.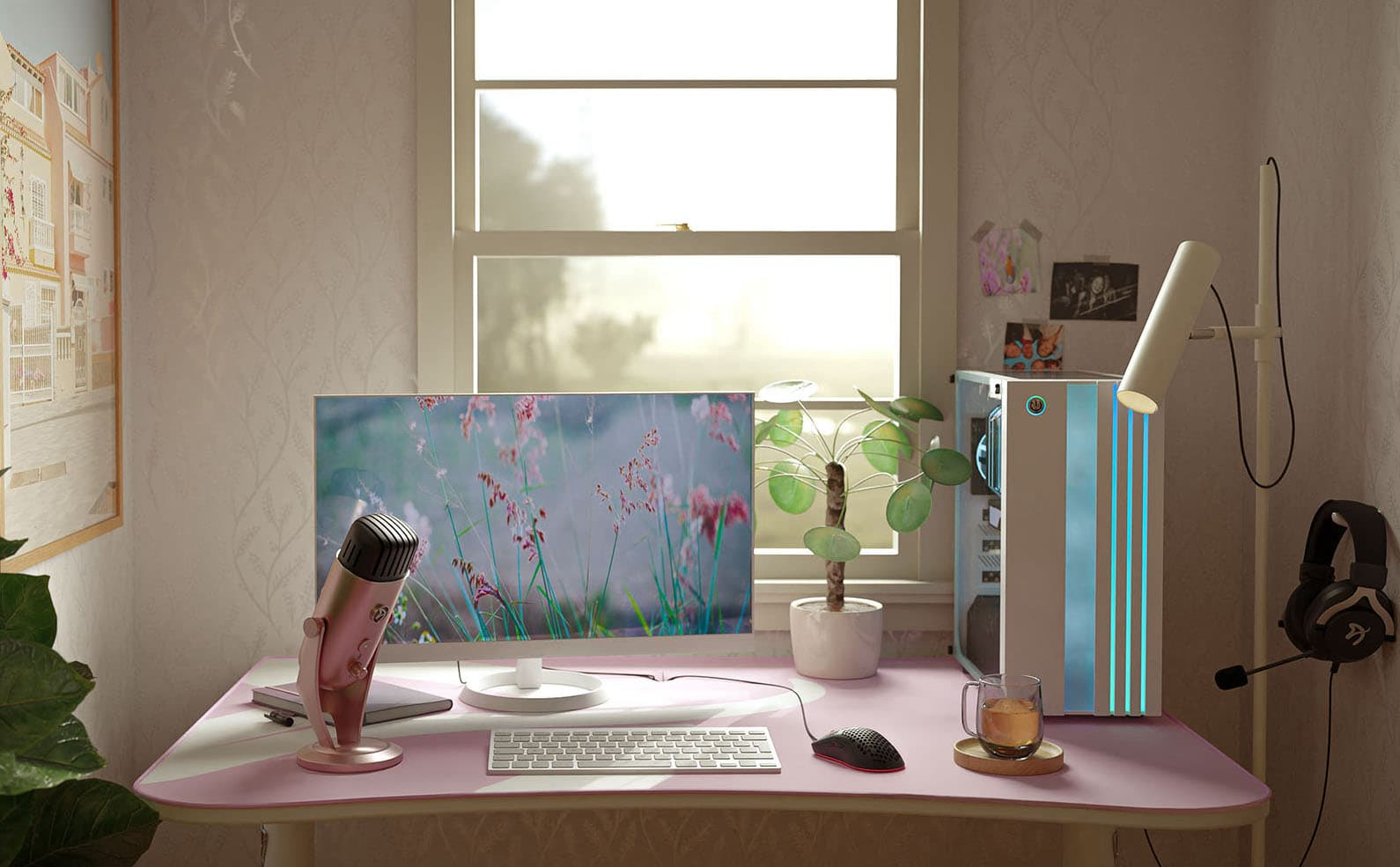 The features of a gaming desk
Gone are the days of computer desks with multiple shelves installed on the closed back and a slide-out keyboard drawer that would always interfere with your chair's armrests. Today, users generally prefer deeper, wider desks without any intrusion at the back, especially if they have a desktop PC to take up all that space.  
While there isn't that many universal gaming desk features, we have compiled a list of the most useful features in our perspective that you will find helpful. 
Mixed material for durability and structure
In essence, modern day gaming desks resemble traditional dinner tables more than ever in all aspects but the material. Wood used to be the main material used in "computer desks" at a time when we didn't even have "gaming" desks. While we still use some type of wood in the top part of the desk, metal is being used more and more to offer more structural integrity in the feet and the chassis.  
Design protrusion allowing for more space
Another welcome feature that is included in some modern gaming desks is that the front of the desk protrudes as you go away from the center. This gives even more depth and space for the even increasing number of gear that gamers may end up accumulating, including a gaming microphone, headset stand, or even a 55" gaming monitor.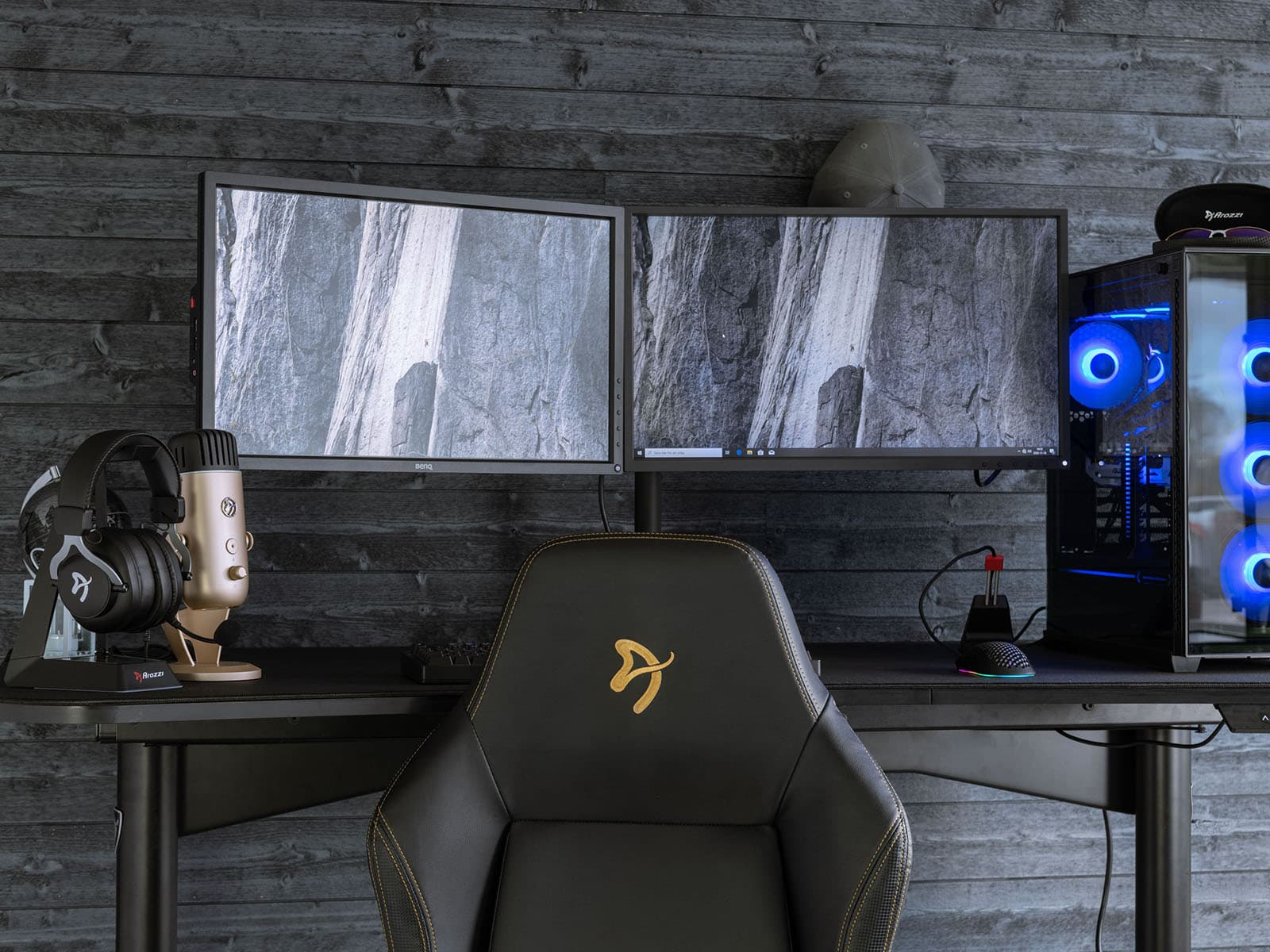 Cable management 
For any PC user, cable management can be both a blessing and a curse. It is a curse because it is an absolute nightmare to deal with, especially if you have a lot of connected peripherals. It can take a couple of hours to tidy things up, only to realize after a while that the setup was not optimal, putting certain things slightly out of reach. Cable management is also a blessing because once you find the right strategy to manage your cables and take a few steps back to marvel at your work, bliss is your reward! 
But wouldn't it be wonderful if you didn't have to spend a good few hours managing your cables and still be able to step back and feel bliss? Thankfully, that is possible in some gaming desks that offer a net underneath the desk that you can simply stuff all the excess cable lengths inside (although we recommend being gentle).  
It would also certainly help if there the table offers strategic holes put in 3 different spots on the desk that would remove the necessity of having to run the cable from behind the desk. In extreme cases where the cable length is just a few centimeters too short, the strategically placed holes can be quite game-changing.  
Water resistant desk mat
Here is another feature found in very few gaming desks: a water-resistant desk-wide mouse pad! While it is always an option to purchase a separate XL mouse mat, it would look much sleeker and less busy if the whole desk was just covered with a mouse pad that you can remove and even put in the washing machine whenever you wanted.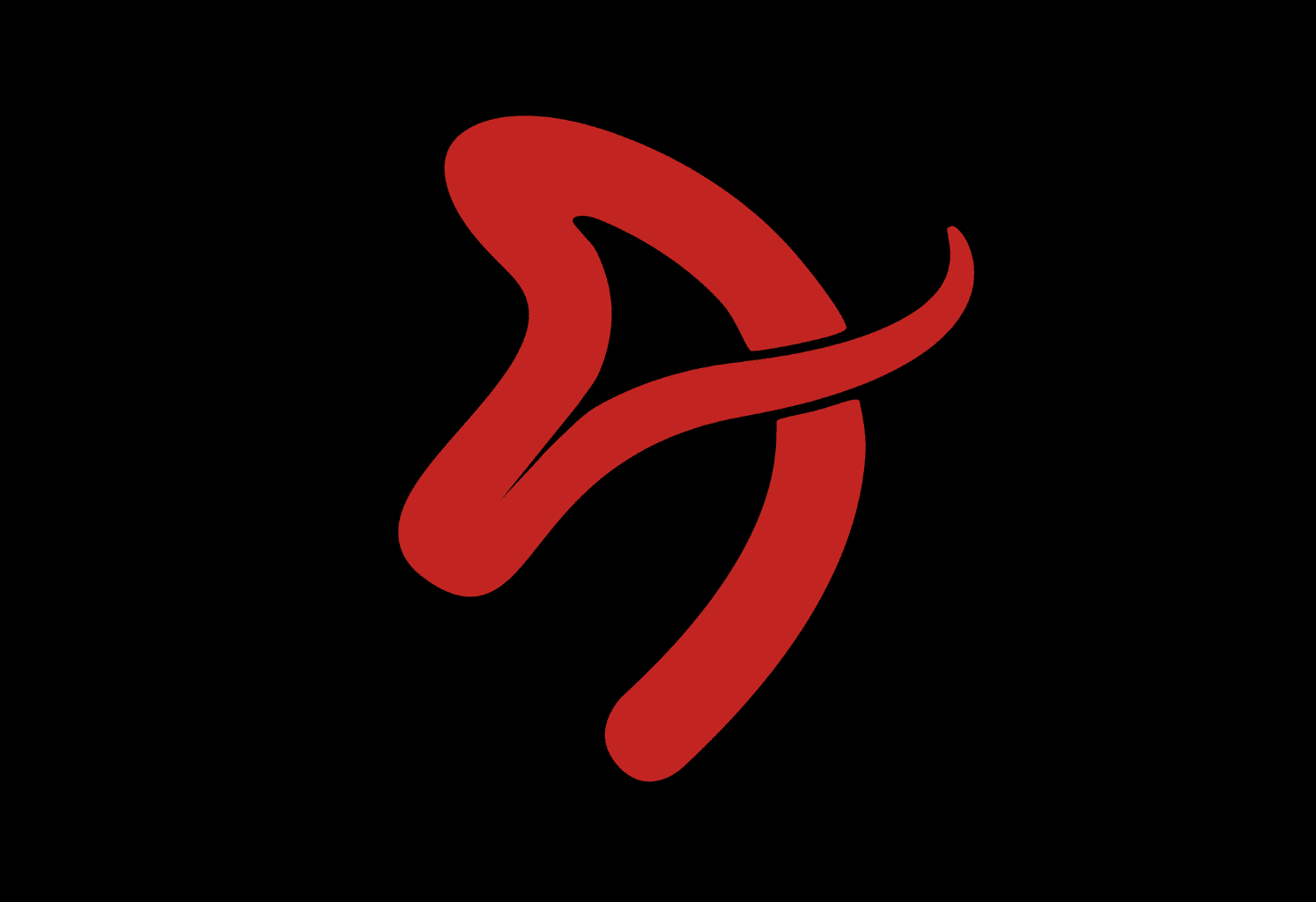 Introducing Arozzi's gaming chairs and desks 
Arozzi is a decade-old Swedish company with special expertise in designing gaming accessories and some of the most intricately made gaming chairs and desks. Many of the rather unique features described above for gaming chairs and desks are ones that Arozzi offers almost exclusively.  
Below, we have selected a few of their most popular offerings to provide you with a better perspective on the quality and features of their products. 
Arozzi Gaming Chairs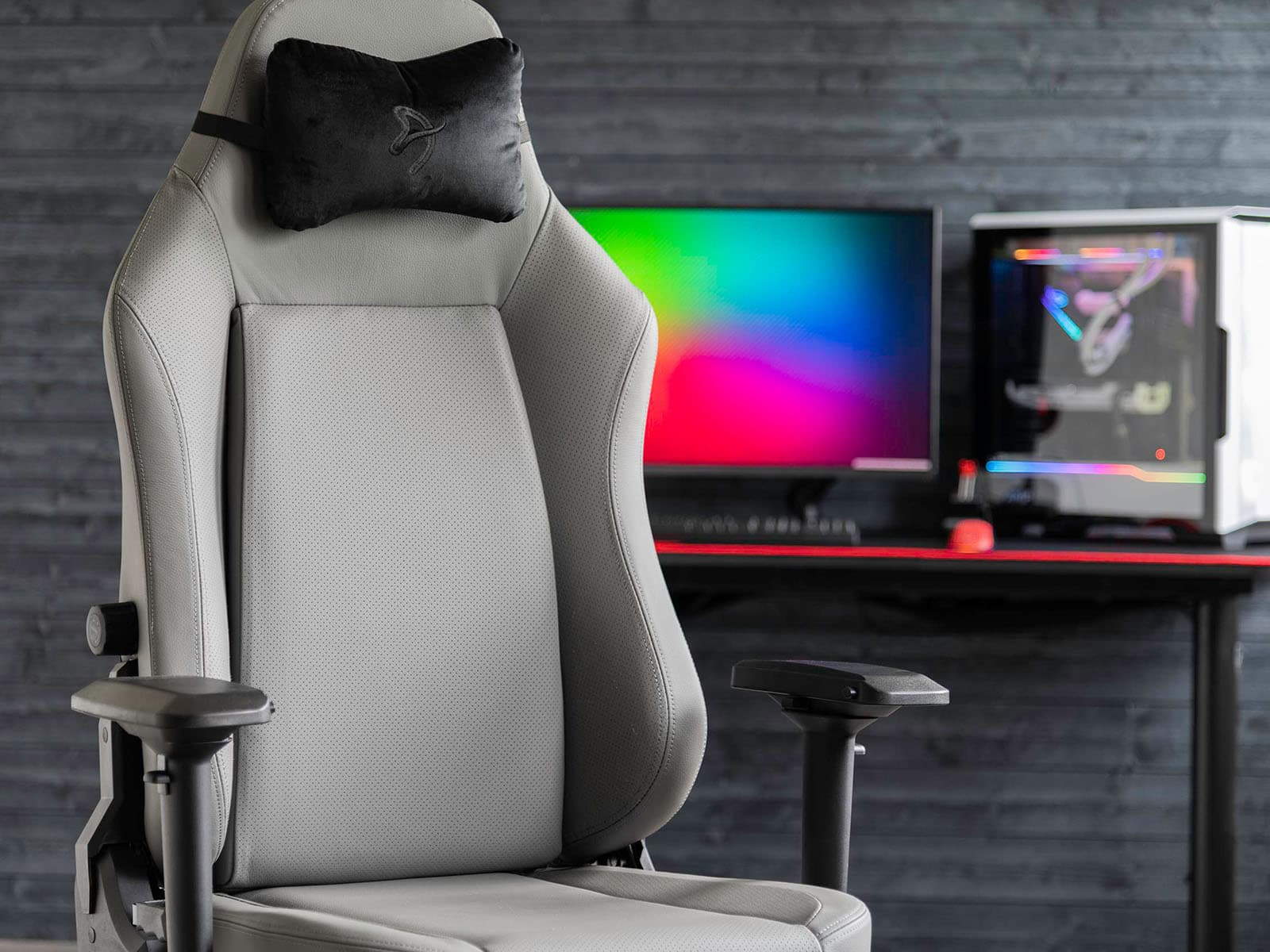 Arozzi Primo Full Premium Leather
The Primo, as the name suggests, is Arozzi's most premium offering in their gaming chair lineup. It is a sizable and hefty chair (thanks to the aluminum base and the heavy casters) that can withstand up to 145kg of weight. It is made from genuine Italian leather and is sure to catch the eye while delivering maximum comfort. It also comes in various colors, including black, brown, and ocean. It is, hands down, Arozzi's best ergonomic gaming chair.  
Although the Primo certainly features the same hugging-backrest design found in many gaming chairs, we seriously hesitate to call it a gaming chair because the design is much more subtle and much less flashy and attention-grabbing than a gaming chair. However, it feels just as comfortable in a gaming setup as it does in a productivity-focused one.  
The ace up the sleeve of the Primo is its built-in lumbar support as well as its 4D armrest, on top of its perforated premium leather that is more breathable than most leather seats, without losing any of its premium feel and look. This gaming chair features adjustable heigh and backrest (up to 145 degrees).  
What is 4D armrest?
The Arozzi Primo goes one step beyond the typical 3D adjustable armrests and adds a 4th D to the degrees of freedom.  
Now you can not only increase/decrease the height of the armrest, push it back or forward and angle it how you want, in the Primo, you can also position the armrest inwards and outwards. This is especially handy if you feel the seating area is slightly too large for you and your elbow doesn't quite rest on top of the armrest, so you can bring them a little bit closer to your body for extra comfort.
Smartly implemented lumbar support
You will find a hidden knob on the right side of the backrest that adjusts the protrusion of the built-in lumbar support. This implementation is a much cleaner take on the lumbar support that not only gives you much more granular control over exactly how much support you want against your back, but it also removes the need to find a space to put the pillow when you don't need it.  
Final thoughts
With all the features that tweak the ergonomics of the chair, the Primo is truly one of the best adjustable gaming chairs on the market and with the advanced backrest adjustability, also one of the best reclining gaming chairs. 
If you want to enjoy the same exact features as the Primo Full Premium Leather gaming chair but with a fabric finish, then there is another Primo that is built just for you: the Arozzi Primo Woven Fabric gaming chair. It features the same unique adjustable built-in lumbar support, the 4D arm rest, and an accented neck rest pillow of your choice.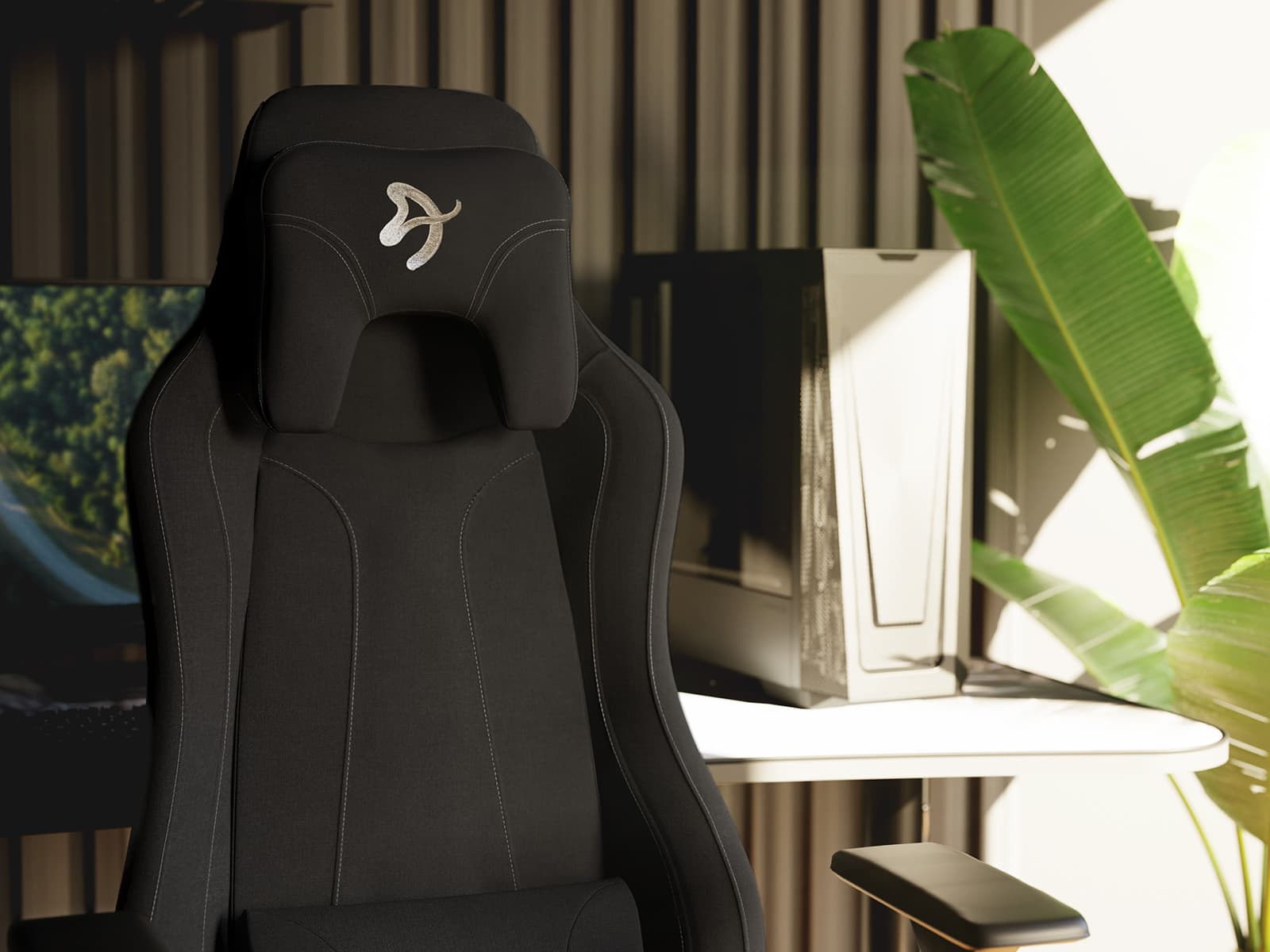 Arozzi Vernazza Soft Fabric
If premium leather is not your cup of tea, perhaps because you sweat too much on leather seats, then Arozzi still has you covered with their other premium gaming chair: the Vernazza. The Arozzi Vernazza is among the larger chairs that Arozzi makes, it features a hugging backrest and a deep and wide seating area that can withstand 145kg and is also suitable for taller people.  
First-class and tested material
The soft fabric on this model is as durable as it is breathable. The breathability makes it a great option for long gaming/productivity sessions. The soft fabric is also utilized in the neck rest and the lumbar support pillows. The fabric is made to last with ISO-tested qualities that measure its tear growth resistance, seam slippage resistance, and tensile strength. It also doesn't produce noise like leather does when you move around. 
The use of quality material doesn't end in the fabric, though. The base and the wheels are made of aluminum with a stylish black finish to give it a more subtle and understated look.
Other important features
The Vernazza features rocking and lock-tilt functions as well as an adjustable backrest (up to 165 degrees) and adjustable height. The chair provides a 3D armrest that can go up and down, forward and back, and angle clockwise or counterclockwise. The Vernazza also features an adjustable lumbar pillow on top of the neck rest pillow that you can lock in place at the desired heigh or remove entirely. 
The cherry-on-top is that this chair is priced much more competitively compared to the leather Primo, simply because fabric is more budget-friendly than leather. Along with the Primo lineup, the Vernazza is among the best reclining gaming chairs and certainly among the best ergonomic gaming chairs currently on the market. 
Arozzi Gaming Desks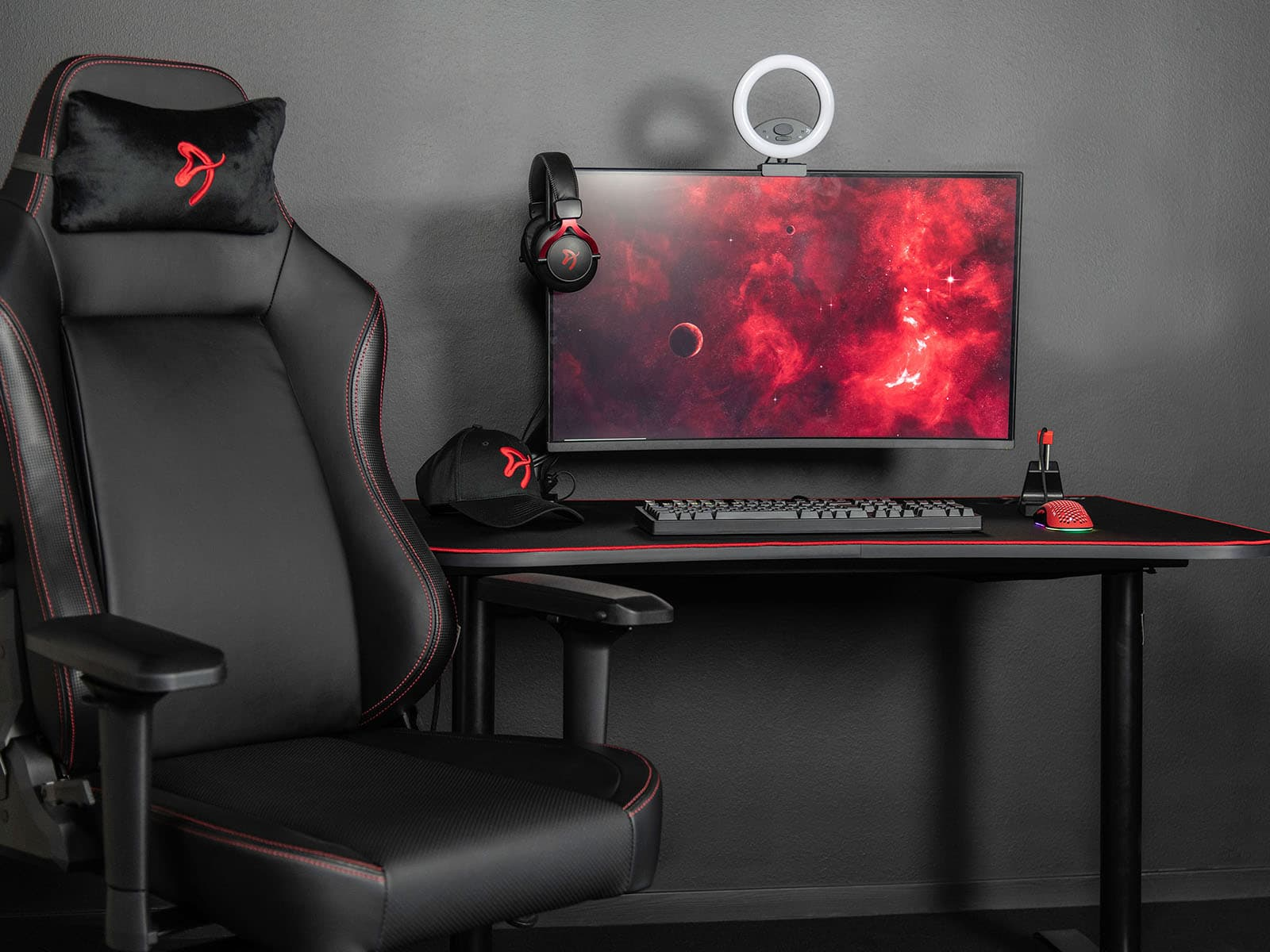 Arozzi Arena Fratello
In the sea of similar looking "gaming" desks, one may easily think that they are all the same and there is no differentiating factor. That may be true in a lot of cases, but in the case of Arozzi's IKEA style AIY (assemble it yourself) desk, the concept doesn't quite hold up. The Arozzi Arena Fratello has a few tricks up its sleeve that make it stand out from the crowd. 
Height adjustability for increased flexibility
The Arozzi Arena Fratello features adjustable height. The feature operates manually and gives you roughly 10cm of height adjustability. The assembly process is not necessarily very easy, but it is very simple; you will need a good half-an-hour at least to assemble it, but you know exactly what to do at each stage as there is a very helpful assembly video published by Arozzi on YouTube.  
Desk-wide water-resistant mouse pad
Outside of the height adjustability, another unique feature of the Fratello is the massive, thick mouse pad that expands the entirety of the surface area of the desk. No need to worry about it gathering dust and grime though, as the mouse mat is completely water resistant and machine washable; so, spill away.
Cable management and monitor stand installation
As for what goes on underneath the desk, the desk features a net that expands the entire width of the desk to fulfill all your cable management needs, regardless of where you put your computer case. It is a simple addition, but if you are at your own desk and look underneath it, you can imagine just how welcome of an addition it truly is.  
One last neat feature built into the chassis of the Fratello as well as its mouse pad, is that there are 3 cut-outs on the surface of the desk that are accompanied by cuts in the same spot on the mousepad to allow not only easier cable management across the desk, but also enabling the implementation of monitor stands that are more accessible. This also allows for installation of monitor stands when there is no gap between the desk and the wall behind it.  
Final thoughts
With the Arena Fratello, you have a very well-sturdy steel construction that is accompanied by several quality-of-life features, with the cherry-on-top being the thick, corner-to-corner mousepad that cleans up the aesthetics of the desk.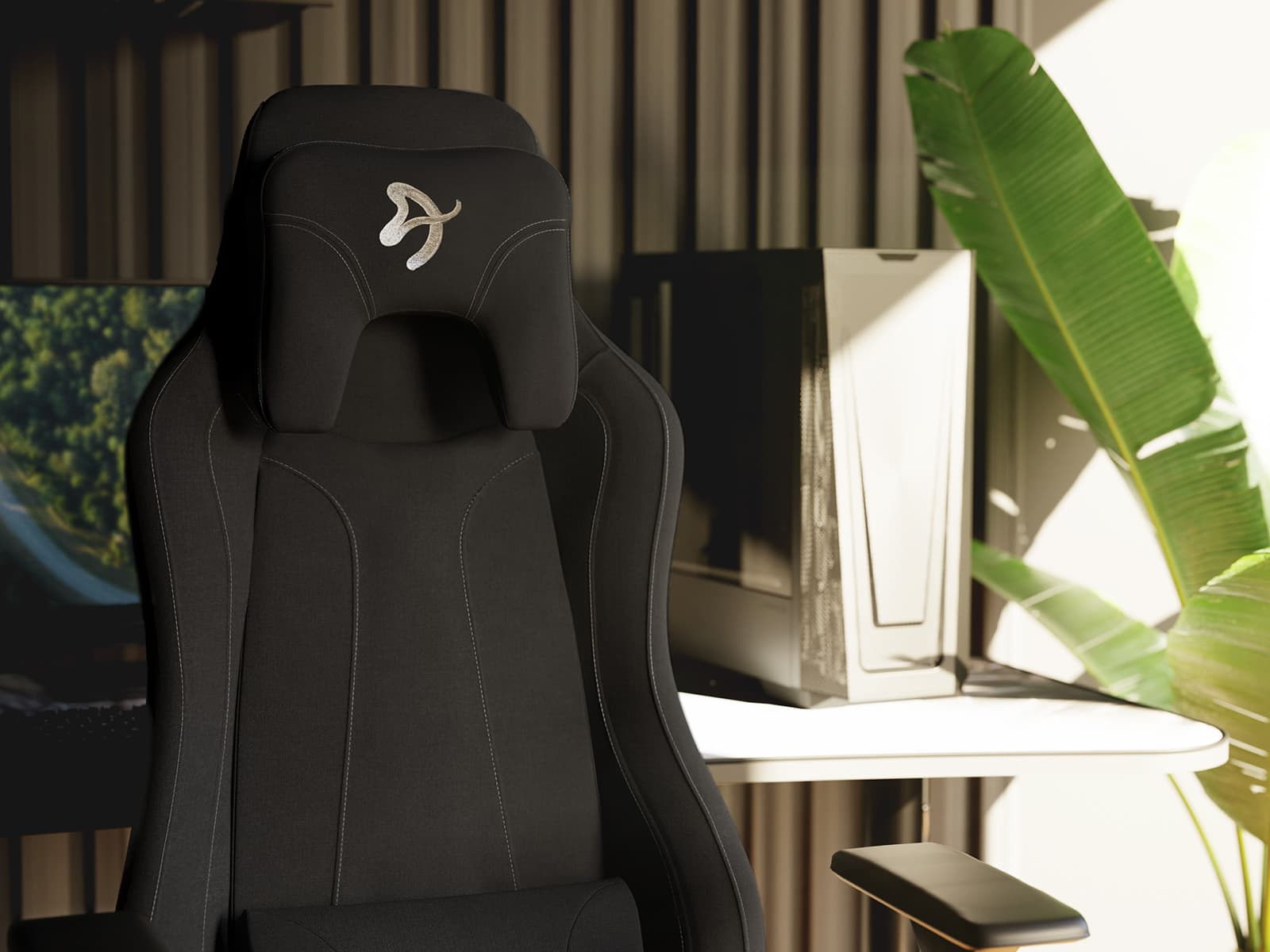 Arozzi Arena Moto
The Arena Moto is Arozzi's response to people with back problems, or those who want to avoid it. Whether you are sitting in the most ergonomic chair or not, you will still need to get up from your chair as often as possible. But sometimes, your busy schedule, or the next round doesn't let you be away from your desk recovering for long enough.  
In that case, using the Arozzi Arena Moto, you can turn your seating setup into a standing one with the press of a button to avoid missing a single beat. The height adjustment is done via the small console that can be attached to either side of the desk. And of course, for more ease-of-use, you can program different heights to 4 separate buttons for convenient and quick switching.  
Other features of the Arena Moto are shared with its non-motorized brother (the Arena Fratello). It features a desk-wide mouse pad that is water resistant and washable, sturdy steel construction, packageable AIY installation, cable management net underneath, 3 cutouts for more convenient cable management, and mounting options for monitor stands.  
Interested in learning more about Arozzi?
As the official distributor of Arozzi in the UAE, Newcom offers a wide range of Arozzi gaming chairs and desks, including the leather gaming chair and motorized standing gaming desk mentioned above. 
If you are interested in any of the products discussed in this article, please make sure to check out our products page. For further information or any inquiries, make sure to directly call us or reach out through our contact us page. 
To make sure you are the first to find out about the latest Arozzi releases in the region, be sure to frequently check out our blog posts.