While BenQ does not make bestselling monitors for the general consumer market (yet), their gaming monitors' popularity in the Esports scene is unparalleled with their Zowie lineup. BenQ has also set its sights on expanding its offerings with their Mobiuz lineup to bring its monitors into more gamers' dens. Mind you, the BenQ Mobiuz lineup is still not a general-purpose monitor, but a more general-purpose gaming monitor. It just has less of a laser focus on competitive edge and more focus on, well, every other aspect of a gaming monitor.
Firstly though, we must look back at the BenQ Zowie lineup that still sees over 50% adoption in the Esports scene compared to other monitor brands. The unbelievable market share that Zowie has managed to take must be seen as a testament to their performance, especially in key competitive areas. This is while the newest Zowie monitors are still, in essence, very similar to the ones that were first released in late 2016.
So, keep reading as we first take a look at what made the BenQ Zowie monitors reach this level of adoption by pro players and why you may also want one. After we go over a few of BenQ gaming monitors offerings in the Zowie lineup, we shift our focus to the company's newer, Mobiuz lineup and go over some of its offerings.
What makes Zowie, Zowie?
But breaking down exactly what those two words mean requires us to get a lot more in-depth into what this monitor does that makes it so popular among pro players.
Speed
Speed does not simply refer to the fact that Zowie monitors are 144hz or even 240hz. BenQ Zowie monitors' high refresh-rates have been bested by multiple manufacturers already. So, it must be something else that keeps pro players coming back to this display when there are 240hz, 360hz, and even 480hz monitors out there. This is where speed alone will not cut it. For the refresh-rate to be "usable" for competitive gaming, the monitor must also have minimal ghosting and motion blur.
So, why Zowie?
Pro players' main concern is motion clarity. That is why they continue to pick Zowie monitors in BenQ gaming monitors offerings. This is while BenQ still uses TN panels in their Zowie lineup, which most consider a dated panel type. IPS panels can certainly offer a better color accuracy and more vibrance in the image, but so far, the motion clarity of the TN panels on the Zowie lineup is unmatched; dated or not.
This speed is so important that pro players almost always forgo getting monitors with a resolution of over FHD. Yes, FHD is still the gold standard in the pro scene. Pros even go out of their way to make their game look as "bad" as it can! We can often see them lowering the graphical settings of their games in order to guarantee that the FPS they are getting always stays higher than their panel's refresh rate. Any FPS dip below 144 or 165 will be noticeable to the hyper-focused players and inevitably distract them. They would much rather have a consistent frame rate than a better-looking game; because remember, their monitor is a tool to them.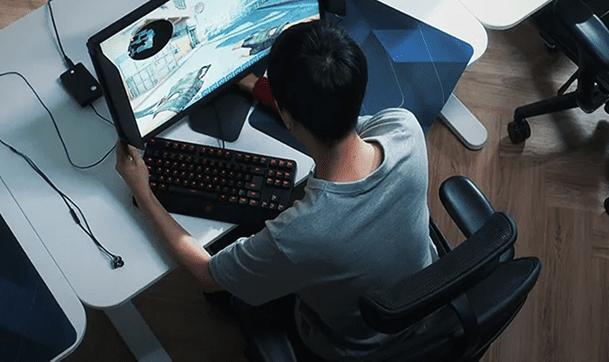 Reliability
While having the best motion clarity is certainly a part of the reliability of a monitor, in this section we will focus on the non-panel aspects of the Zowie lineup that make them reliable. Once again, we need to stress that a monitor is a tool to a pro gamer; a tool that absolutely must do certain things. Gamers don't necessarily care that Zowie monitors have comparatively thick bezels; they care that it has a handle that they can use to more easily carry them around. They don't care that it is made of plastic, they care about the fact that Zowie monitors are ridiculously flexible!
Monitors in the Zowie lineup have 3 degrees of freedom: they can tilt, swivel and are height adjustable. There are even indicators on the stand that give you an idea of where your preferred angle and height is so that you can set it up to your preference quickly when you move the monitor.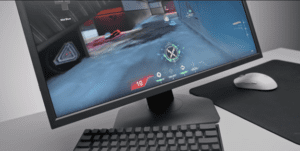 Angle the keyboard, swivel the monitor
One under-appreciated use-case for the swivel functionality is that it allows an actually applicable type of playstyle. Some pro players have a distinct way of angling the keyboard against the desk, which causes the keyboard to go much farther back into the depth of the desk. When the monitor is far away, this is not an issue, but if you want the monitor to be closer to you, the keyboard will eat into the monitor's space. But with Zowie monitors you can swivel the monitor counterclockwise and bring it closer to you while the keyboard is parallel to the monitor's base, so that it never hits it.
These small quality-of-life considerations that make pro players' lives easier are the reasons why they keep coming back to BenQ for their displays. They are certainly not the flashiest. They don't even have RGB. But pro players are looking for a display that is fast, has no motion blur and is easily adjustable. And clearly, they have found those in BenQ's Zowie offerings.
The secret to Zowie's motion clarity
It's Dynamic Accuracy + technology (DyAc+). DyAc+ is what gives the edge in motion clarity to BenQ monitors in the competitive scene and elsewhere. Before we get too much into the details, let's look at what it means to your games.
The UFO tests
The UFO test is a common way to test a monitor's ghosting effect. It is simply a moving object of different colors that moves at the highest framerate that your monitor can handle. If you focus your eyes on one of the moving UFO's, you will be able to see how much trail the UFO leaves behind. You can run the test on your own display right now to see what we mean. Ideally, you want to see one clear PNG that looks the same regardless of whether it is moving. But in the vast majority of monitors out there, this is unfortunately not the case. You will see a trail––it is just a matter of how long the trail is. The trail will inevitably decrease the overall clarity of the UFO, making its different parts harder to discern.
Below you can see a snapshot take of the UFO's during the test on different monitors with different refresh rates. You can see that the right-most snapshot, taken from Zowie 2546K, is an almost perfect image of the UFO without a ghosting effect.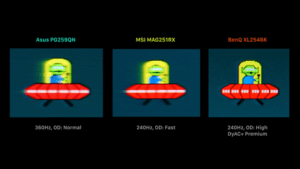 We didn't forget about DyAc+. The image you saw above was with DyAc+ cranked up to its maximum settings. But what is Dynamic Accuracy anyway? Well, put simply, Zowie monitors use a backlight strobing technology that turns off the backlight in-between frame refreshes. Do not worry though, you cannot perceive the strobing of the backlight and so it will not cause any eye-strain whatsoever.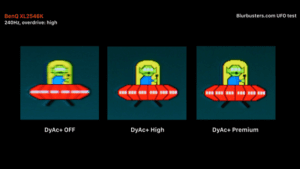 nterestingly, other companies have purported to be using similar technologies to achieve the same motion clarity. But, it seems like it is the execution that counts, as nothing has managed to dethrone DyAc+ yet.
Blinders: A gimmick?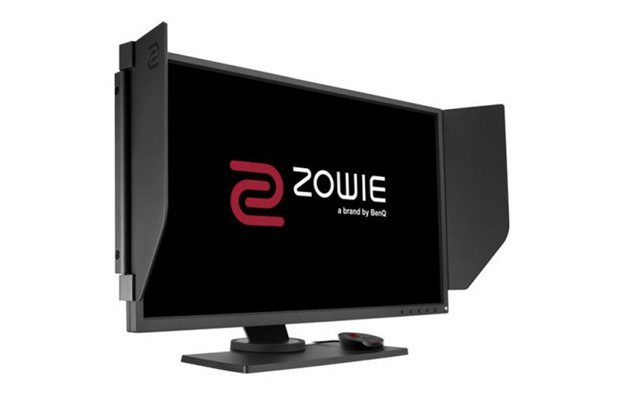 The inclusion of these blinders in the box of BenQ Zowie monitors are just more reasons as to why they are targeting the pro scene. In many Esports tournaments, players are facing the crowd. While most of their peripheral vision is covered by the display in front of them, they can still definitely see the crowd from the sides of the display. By adding these blinders, you can eliminate some of that distraction, a crucial feat in the heat of the battle.
Alternatively, if you are gaming in bright lights, inside or outside, using at least one of these blinders can reduce or completely remove the glare you would get from the light source.
Your choices
Among BenQ gaming monitors, the current top-of-the line model that has become industry standard in Esports is the XL2546K. They are both FHD TN panels with a refresh rate of 240hz (can go up to 360hz or down to 144hz depending on the model) and BenQ's staple DyAc+ technology.
You can also go for the XL2411K model that offers DyAc at 144hz. We recommend getting the Zowie models to PC owners and not so much to console gamers as console gamers benefit more from a bump in resolution than crazy-high refresh rates and crystal-clear motion. Console gamers should divert their attention to the Mobiuz lineup.
BenQ Mobiuz
 Lineup
We've seen what BenQ can do if it wants to make a tool for gamers that is focused on performance and performance alone. But the BenQ Mobiuz lineup is the company's direct response to the growing competition in the gaming monitor market where we have seen aggressive price cuts on high-performing monitors. Mobiuz monitors have come firing on all cylinders, hell-bent on offering high-performance monitors in attractive packages.
The attractive package
While the Zowie lineup looks plain and industrial, exactly as a tool would, the Mobiuz lineup has a lot more to say in the design department. BenQ Mobiuz models' design philosophy revolves around sharp angles, and…orange (the color). There is nothing smooth about the design––it's all sharp edges through and through, which gives the monitor a rather aggressive look. In this attractive package, BenQ has managed to retain everything that made the Zowie lineup such a flexible option. Mobiuz monitors can tilt, swivel, and are height-adjustable; the trinity of flexibility is here.
Speakers that are worth your attention
We almost never pay attention to the built-in speakers in monitors, and for good reasons. They are often lacking in volume, depth, soundstage and separation. But the audio you will find coming out of the speakers on a model such as the EX3210U is definitely worth your attention. On top of the stereo setup in the sides of the monitor, there is also a 5W subwoofer at the back, which is unheard of in monitors. Moreover, rhe "Sound by treVolo" moniker printed on the back of select Mobiuz models should not be written off like the Harman/Kardon branding you see on some laptops whose speakers are often mediocre at best.
Battle-ready specs
At any price-point, you will find a specced-out Mobiuz model ready to take you to the next level of immersion. Whether with the EX2710S with an FHD 165hz panel or the EX2710Q, its QHD brother, you can upgrade your display without breaking the bank. If you are aiming high, you can go for the top-of-the-line EX3210R or EX3210U with a curved 2K and 4K panels respectively.
All Mobiuz monitors use IPS panels for vivid colors and varying degrees of HDR compatibility. Select models also come with BenQ's proprietary HDRi technology that gives you control over how you want HDR to be applied to the content. Different HDR scenarios can optimize the display for the most dynamic of scenes.
Eye-strain no more
It's about time the ambient light sensor in our phones found its way into the display we actually use the most during the day (at least for some of you). The BenQ Mobiuz lineup has ambient light sensors built-in that not only adjusts the brightness of the display based on the amount of surrounding light, but it also turns on its blue-light filter at night to further help reduce eye strain as a result of working long hours behind a screen, especially at night. You can check whether or not the monitor has this functionality if you find "BenQ Eye Care" written on the monitor's box
HDRi
BenQ HDR monitors in the Mobiuz lineup come with an extra feature. The HDRi capability allows users to tune the HDR depending on the scene. You can look at it as scene filters on your phone's camera. Each type of HDR might look better with certain types of content, so you can toggle between the few options there is to find the one that fits best to the scene.
Your choices
Among BenQ gaming monitors, your options are wider when looking at the Mobiuz lineup compared to the Zowie lineup. If you are looking to go big, you can look at the EX3210R model with a curved IPS panel that comes in at 165hz at a resolution of 2160×1440. At a more modest size you can go with either the EX2710Q or the EX2710S, both FHD panels supporting 165hz, with the only difference being that the former boasts BenQ's HDRi technology for optimizing HDR content depending on its setting and user preference.
Zowie or Mobiuz: Which is right for me?
We are going to make this very simple. If you play high-octane competitive shooters, such as CS:GO, Rainbow 6, or Valorant, the numbers point to the Zowie lineup. After all, the XL2456K model is by far the most popular monitor used by pro players in these games. What the Zowie lineup lacks in color accuracy (that can be addressed with a simple manual color tuning) it more than makes up for it with unrivaled motion clarity at very high refresh rates. So, if speed is the most important part of the monitor and you play shooters semi-competitively, you could get a lot out of the Zowie lineup.
But if you are not playing competitively or the games you play are not as high-octane as something like Valorant or CS:GO, you will find the BenQ Mobiuz lineup more attractive. They offer a wider range of resolutions, refresh rates, and HDR functionality compared with the Zowie lineup. They also feel more at home with the gaming aesthetic that you may have on your desk. They also come with a side order of surprisingly good speakers on a monitor, perhaps for the first time, on top of some quality-of-life features such as adaptive brightness and automatic blue-light filter.
Console gaming notes
Currently, PS5 does not natively support 2K resolution and there is no reason to get a 2K monitor, if you are getting one for your PS5. You should either get a 4K monitor for your PS5 or Xbox Series X, or opt for the cheaper FHD options with high refresh-rates. But if you are team Xbox, you do get the option to go 2K as both the Series X and the cheaper Series S natively support this resolution at high framerates.